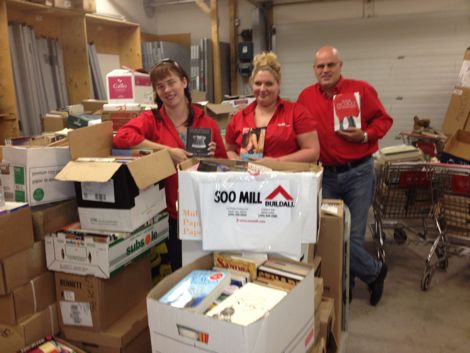 Generous book-loving Sault and area residents have responded with open hearts to Soo Mill Buildall's Book Drive for Elliot Lake.
The 97-year-old Sault business wrapped up the collection phase on Saturday.
Shown above amid boxes and boxes of contributed reading materials are, from left, Soo Mill employees Brandi McCallum (paint department), Jasmine Quinton (cashier) and Greg Hall (manager).
"The response has been beyond our wildest expectations," Greg told SooToday.com News.
"We knew Sault Ste. Marie is generous, but this is unbelievable."
Meanwhile, Soo Mill's store manager in Elliot Lake, Nancy Boyle, says residents there are thrilled with the results.
"It's been a real lift - a lot of people were dependent on the library. The books donated have really filled a need. We're so grateful to the people of Sault Ste. Marie - thank you. Your generosity is overwhelming."

Books are being distributed directly to the public from the store in Elliot Lake.

The first shipment was delivered by a Soo Mill truck last week.

And more books will be heading east this week.

While the exact number of items donated isn't known, the total is estimated to easily reach well into the thousands.