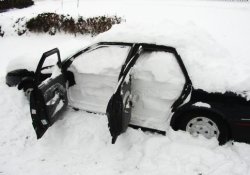 SooToday.com received the following open letter recently from loyal reader Shauna Major, addressed to her snow-blowing guardian angel:
*************************
I am writing today to say thanks to someone I've never met.
I live close to the tennis courts on Henrietta Avenue, just so you know it's you I am talking about.
I want to say thank you, my guardian snow blowing angel.
You know who you are - and I'm sure you sit tickled with delight at the happiness you spread.
I know I would.
You are the one with a snow blower, and you must have watched me struggle with the snow float and shovel.
Unable to fling the snow to the top of the 10-foot snow bank.
Shovelling it onto the street, to the sidewalk, anywhere but in the driveway.
I'm so sorry to the pedestrians - I am doing my best during this snowmageddon.
You probably also saw how much air I would catch getting over the city-plough-hump that formed at the end of my driveway.
I would be out for the day and think "another two hours of shovelling will get the rest of the snow cleared once I get home."

You wait 'til I leave for the day.
Then you go outside with the frigid temperatures, and biting winds, and clear my driveway.
You don't leave a note so I can thank you personally.
So I can't leave a LCBO or Tim's gift card in your mailbox, as stealthily as you wield your snow blower down the street.
My driveway has been cleared TWICE in this manner while I was gone for the day.

I want to humbly and very gratefully say thank you, to that person on Henrietta street, right near the tennis courts.
Thank you dearly.
Thank you from the handle of my shovel.
Thank you from the struts of my car.
Thank you, my snow-blowing guardian angel.

Sincerely,
Shauna Major
*************************