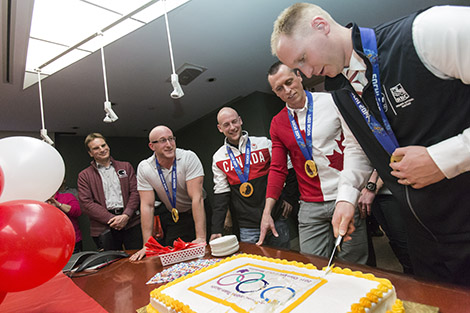 (Photo: Skip Brad Jacobs cuts a cake as his teammates look on during a celebration at OLG on February 27, 2014. Photo/Kenneth Armstrong)
Team Jacobs have been home for only a few days since their thrilling Olympic gold medal game and closing ceremonies in Sochi, Russia, but there is little time to relax with their busy schedule.

The team was at OLG Thursday afternoon for a celebration of the team's success, where employees shared cake with the team as the event was teleconferenced with the corporate office in Toronto.

Team member E.J. Harnden works at the Foster Drive location as a brand manager (when he isn't sweeping or throwing rocks) and the team's Olympic journey was also sponsored in part from proceeds from OLG's QUEST FOR GOLD scratch tickets.

Employees were able to talk to the team, receive autographs and have their photos taken with the gold medals.

This appearance is just the beginning for the team's busy upcoming schedule.

Team Jacobs have two more grand slam events to compete in to finish off their season, they will be playing in Fort McMurray, Alberta later in March and Summerside, PEI in April.

"We're not shrugging those events off, we'll be back on the ice in a couple of days and get ourselves ready, we want to finish the year strong," says Harnden. "That's just the way we are, we're four competitive guys that want to give everything we have into every performance."

One event the team will not be participating in is the 2014 Tim Horton's Brier, which starts this weekend in Kamloops, British Columbia, because the qualifying conflicted with their Olympic schedule.

Brad Jacobs has competed in the Brier six times since 2007, he and the current team lineup won the event in 2013.

E.J. Harnden said he was slightly disappointed at not being able to compete, "but at the same time it's almost nice to get home and have some rest and if we're missing the Brier because of the Olympics then we're fine with that."

Skip Brad Jacobs would also rather be defending the title, but is now looking forward to the thrill of watching the Brier like he did in his youth.

"I haven't had the chance to watch the Brier on TV for several years and I used to love watching it on TV, especially when I was a kid," says Jacobs.

"We would love to be playing in it, but at the same time we're happy that we get to enjoy our olympic moment" adds Harnden.

The team had arrived from Sochi early on Sunday morning to a crowd of family, friends and fans at the Sault Ste. Marie Airport, but as far as an even bigger local celebration, E.J. Harnden says it will have to wait for now.

"I think were going to wait until Mac (Marcoux) gets back from the Paralympic games and we can share the celebration with him and his brother," says Harnden. "They're over there now and we're going to watch closely and follow their progression and hope we can celebrate with some more medals later in March or April."

Ryan Fry, who hails from Winnipeg Manitoba and is son of curling legend Barry Fry, is also looking forward to a homecoming celebration of his own.

Barry Fry's 1979 team is going to be inducted into the Manitoba Curling Hall of Fame on May 4 and Ryan hopes to be able to attend.

"I definitely can't wait to get back, as many good friends as I have here there's some really good buddies back home and I'd love to spend some down-time with them," says Fry.

Fry is looking to commemorate his experience in Sochi by adding an Olympic-themed tattoo with the others he has gotten in the past.

When asked about the proposed design Fry replied, "I wouldn't mind incorporating the torch because it's so iconic for Sochi and the rings will definitely be in there… I'll see what else I can fit in."

Jacobs is also considering a tattoo, which would be a first for him.

"It's going to be a big step for me, I don't want to rush into getting anything," says Jacobs. "One thing we're going to do is get olympic rings that we can wear, it's something you're not given (at the event) but I think we need to get".