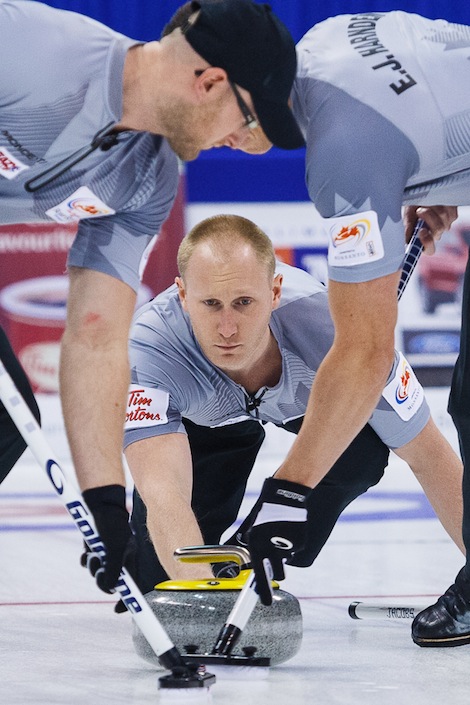 Team Jacobs will trade in their curling rocks for golf balls this weekend as they host their celebrity golf event in Sault Ste. Marie.

The tournament will be held Saturday at the Sault Ste. Marie Golf Club with celebrities such as Brian Mudrick from TSN, and NHL players (former and current) such as Tyler Kennedy, Trevor Daley, Matt D'Agostini, Marty Turco, and fellow Winter Olympian, bobsledder Chris Spring, among others.

About 32 teams consisting of celebrities and amateur golfers will take to the course in support of three causes that are close to the hearts of Team Jacobs.

"We're trying to do what we can to give back, especially to kids," said skip Brad Jacobs.

The bulk of the proceeds from the event will go toward the newly-created "Team Jacobs Follow Your Dreams" bursary, which was created to assist Algoma University athletes in financial need.

"Hopefully it will attract more students to the school and want to make local kids want to stay in the Sault and continue their post-secondary education here," said Jacobs.

Proceeds will also be going toward the Junior Golf program at the Sault Ste. Marie Golf Club and development of curling in Northern Ontario.

A live auction and silent auction will be held at the Delta Hotel tonight from 7-11 p.m.

The auctions are open to the public with a $20 entry fee at the door.
Attendees will be able to bid on items such as sports memorabilia items and take photos with the celebrities in attendance and Team Jacobs with their gold medals.

Young members of the Sault Ste. Marie Golf Club's Junior Golfers will be on the course getting experience acting as caddies and raking sand traps during the event Saturday.

The club offers programs and camps during the summer to teach the game to kids.

"Golf is one of the greatest games to teach kids patience and discipline, how to persevere when you have good times and bad times," said Jeff Hamilton, head golf professional at Sault Ste. Marie Golf Club.

Jacobs is also looking forward to the upcoming Grand Slam curling event being held in November in Sault Ste. Marie.

"That is going to be one of the highlights of our season, for sure. Being able to play in front of hometown fans," said Jacobs.

The National Men's Curling Invitational will be held at Essar Centre November 19-23.