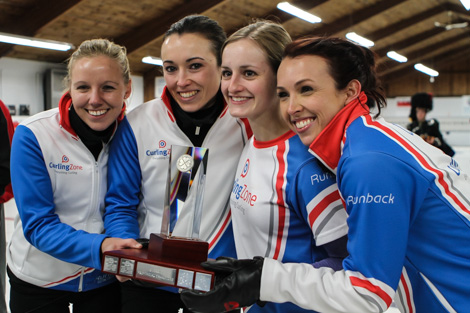 The last ever all-Ontario Scotties Ladies Curling Championship wrapped up this evening at the Soo Curlers Association as Team Flaxey (pictured) edged out Team Hastings 7-5 for the big win.

"It feels amazing. It was a really exciting week, but it's a long week," said skip Allison Flaxey. "To have it done and know we get to wear the Ontario colours at the Scotties is going to be amazing."

Team Flaxey had a 7-2 record through the round robin draws and was defeated by Hastings in the quarter final round.

Team Flaxey defeated Team Reddick in Sunday morning's semi-final draw to qualify for the final championship draw Sunday evening.

From the Listowel Curling Club, skip Allison Flaxey, third Katie Cottrill, second Lynn Kreviazuk, and lead Morgan Court will now go on to represent Ontario at the 2014 Scotties Tournament of Hearts in Montreal starting February 1.

The Flaxey rink will meet current Tournament of Hearts defending champions Team Homan from Ottawa as Lynn Kreviazuk faces her younger sister, Alison, who shoots lead stones for Team Homan.
Jasmyn Rowley interviews Allison Flaxey after the win. Click here.