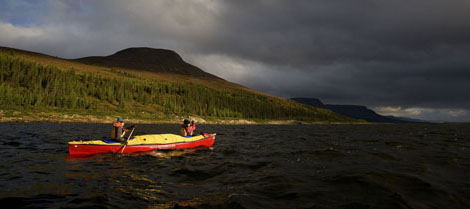 Thanks to the generous support of Joes Sports and Quattra, local celebrity environmentalist and Sault Ste. Marie Walk of Fame inductee Gary McGuffin is checking in from spots along the way on the latest expedition with the Wilderness River Expedition Art Foundation.
This year's expedition will paddle and explore the Noatak River in Alaska.
SooToday.com visitors are invited to share questions for McGuffin in the comment section below.
Here is the latest on the spot update from McGuffin.
*************************
August 18
I'm calling under cloudy skies and it's probably going to be like this all day.
The highlight of yesterday's travel was that we traveled about 75km in the one day.
We had huge high winds and we've had a lot of rain.
It's brought the river up about two feet so we're traveling quite a bit faster than we were earlier.
The river now looks like a spring flood - really brown - so we're now going to the little feeder streams and getting our fresh water off those feeder streams when we make camp.
Everyone's in very good health and really happy - it's a great crew.
Yesterday we saw two musk oxen and photographed one really close up.
We saw four grizzly bears and I got photographs of one big male grizzly bear just as we were coming around a bend.
He was on the outside of the bend and he was was coming toward us so it was just right.
He couldn't pick up our scent but, as soon as he saw us, he stood up, looked at us, ran the other way then stopped for a second and just kept on running.
Then there was a sow bear with two cubs saw us for a moment from this high bank and they took off as well.
There's a lot of wildlife.
Where I'm sitting right now, it's just a highway for musk oxen and caribou.
I think we've timed the migration of the caribou just right and we're seeing lots and lots of threads of caribou coming through.
Some of them are coming down - they see us on the banks and they either head over the banks so we can't see them or they go right in front of us and they plunge through into the river then go up the other side.
We also saw a couple of Gyre falcons yesterday.
At this time of year, they're feeding their young and getting ready to head south.
We're just upstream from the Aniuk River and maybe in a couple days we'll be at the Cutler River.
To see where the expedition is now, please click here
*************************
Earlier SooToday.com coverage of this story