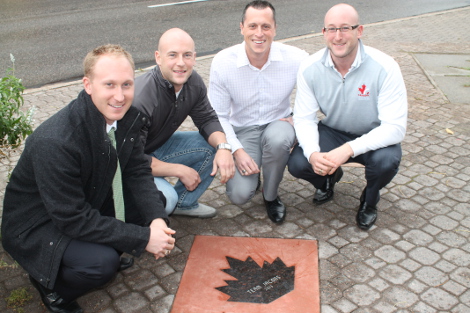 Tuesday, January 28 is the date.
Mark it on your calendar.
That's when 500 lucky folks get to show their support for Team Jacobs, community's own Olympic team.
Not only do folks who purchase a ticket or table for this event get to help send the Soo Curlers Association foremost men's curling team to Sochi, Russia for the 2014 Winter Olympics they will have plenty of opportunities to bid items in a silent auction or purchase raffle tickets on other cool stuff.
Team Jacobs will be there at Comfort Suites to schmooze with supporters and enjoy a great dinner and dance, too.
Cocktails time begins at 6 p.m. and dinner will be served at 6:45 p.m.
Dinner menu:
In house baked breads
House salad
Roasted chicken
Italian Wedge Potatoes
Dessert
Coffee & Tea
A cash bar will be available and cost for the event is $60 per person or $600 for a 10-person table.
Some 8-person tables available for $480 all to assist Team Jacob's family members to travel to Sochi to support the team.

Buy tickets with cash or cheques at Comfort Suites on Great Northern Road; email team.jacobs.curling@gmail.com, or pick them up at the Soo Curlers Association.
**************************
Watch our exclusive interview with Brad Jacobs and Local2's Jim Cronin.
**************************