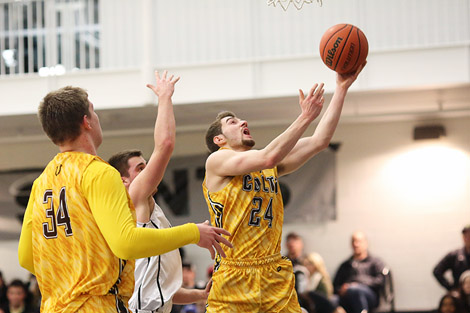 Sault Ste. Marie-based schools enjoyed plenty of success in Northern Ontario Secondary School Association basketball tournaments over the weekend.
In the AA NOSSA tournament in Sudbury, it was a clean sweep for the Korah Colts.
In senior action, Korah beat Sudbury's Lasalle 65-60 in the final thanks to a 30-point performance from Anthony Iacoe. Jonah Fogg chipped in with 16 points while Anthony Ivey added 12 points for the Colts in the win.
Korah advanced to the championship thanks to a 58-43 win over Lockerby, also of Sudbury, in the semi-final. Fogg had 17 points in the semi-final win while Iacoe added 15 points.
The senior Colts now advance to the AA Ontario Federation of School Athletic Associations (OFSAA) championship, being held in Perth, Ont., beginning on Mar. 3.
In the junior AA tournament, Korah also won the title with a 46-35 win over Sudbury's St. Charles in the final.
Jadon Fogg had 14 points for the Colts in the win while Jarret Litalien and Liam Brescasin added 11 points each for Korah., who beat Sudbury's Lockerby 54-29 in the semi-final.
In the AAA NOSSA tournament in North Bay, a pair of Sault schools also came away with tournament wins.
In the senior final, Superior Heights beat Algonquin of North Bay 51-38 in the final thanks to a 28-point performance from Austin Wesley. Craig Daniel chipped in with 13 points for Superior Heights in the win.
Superior Heights used a 58-37 win over West Ferris of North Bay in the semi-final to advance.
The Steelhawks will now advance to the AAA OFSAA tournament, scheduled to open up on Mar. 3 in Welland, Ont.
In the junior final, St. Mary's beat Confederation of Sudbury 64-55 to win the junior title. Dexter Holden scord 24 points for St. Mary's in the win while Jesse Soltys added 14 points in the win.
St. Mary's needed to win a qualifier game over White Pines to get into the NOSSA tournament after finished the local regular season with a 2-10 record. White Pines was 9-3 this season.
There are no OFSAA tournaments at the junior level.
File photo by Kenneth Armstrong for SooToday.com