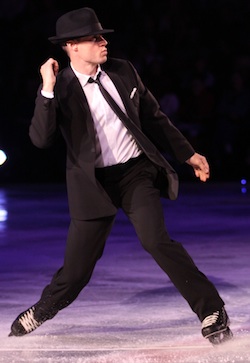 NEWS RELEASE
ESSAR CENTRE
*************************
Celebration on Ice 2012
Look who's coming to town for one last show!
This holiday season the elite of Canadian figure skating will make their final appearance, together, on ice for an evening of spectacular entertainment for the entire family, as the 10th edition of Celebration on Ice, the Tour which brings the ice skating most accomplished performers to Ontario for its four December shows.
The 2012 edition will headline present Canadian and two-time World champion Patrick Chan skating with four-time World Champion Kurt Browning, two-time Olympic silver medalist Elvis Stojko, World Champion Jeffrey Buttle and Olympic bronze medalist Joannie Rochette.
It will be their last show together on the same ice surface at the Essar Centre in Sault Ste. Marie on Monday, December 17, 2012, at 7 p.m.
Tickets go on sale on Friday, October 12 at 10 a.m.
Tickets can be purchased at the Essar Centre Box Office, online or by calling toll free 1-866-775-9422.
Ticket prices range from $47.94 - $118 (additional service charges may apply).
Meagan Duhamel and Eric Radford, Canadian pair champions, Shawn Sawyer and World extreme ice skating champions, Violetta Afanesia and Pete Dack are also part of the entertainers.
Local talents will also be granted the opportunity to perform in front of their families and friends.
Celebrated Canadian icon Kurt Browning is the choreographer for these shows.
The athletes will be visiting the following cities: Stratford (December 13), Newmarket (December 14), Sudbury (December 15) and Sault Ste. Marie (December 17).
Don't miss the incredible occasion to attend a spectacular holiday season ice gala in a city near you.
Celebration on Ice is proud to bring elite skaters to their grass roots cities and hometowns.
*************************