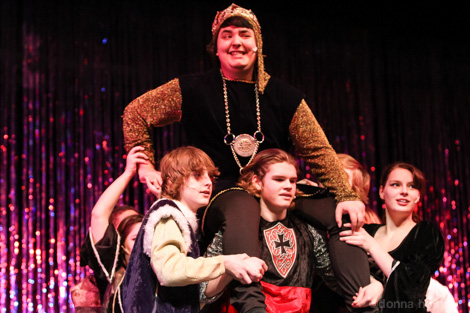 Need a good laugh?

If the answer is yes, then you must check out the White Pines OnStage production of Spamalot which opened last evening at the Kiwanis Community Theatre Centre.

Since announcing her retirement, director Sue Barber proves she's not dead yet with this hilarious musical comedy based on Monty Python's 1975 cult classic Monty Python and the Holy Grail.

"I decided I'd do Spamalot because this is my last year here with White Pines OnStage and I wanted to do something really funny. It's light and hilarious and uses lots of actors. And I love Monty Python," Barber told Local2's Jasmyn Rowley in a recent interview.

"Every theatre joke is in this play," she continued. "I did this play as an honour and a thank to all of the people who have done theatre over all these years."

A cheeky take on the classic Arthurian legend, Spamalot follows the follies of King Arthur, Sir Lancelot, and Knights of the Round Table on their quest for the Holy Grail.

In Barber's production, the Holy Grail is the Stanley Cup.

The production stars Duncan Beith as Sir Lancelot, Victoria Stortini-Snider as the Lady of the Lake, and Tomas Pochtaruk who plays King Arthur with impeccable comedic timing.

Spamalot runs at the Kiwanis Community Theatre Centre until Saturday, February 15, 2014.

Curtain time is 7 p.m. and tickets ($15 each) are available at the Community Box Office in the Station Mall or White Pines.