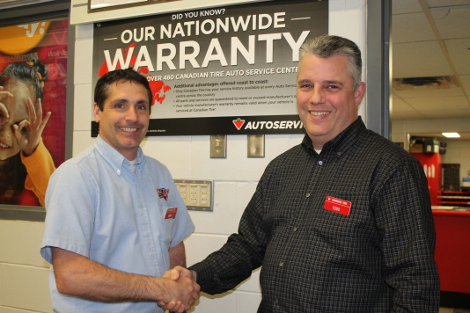 (SooToday.com photo by Darren Taylor shows Service Manager Chris Celetti and GM Automotive Division Todd Black today at the Sault Ste. Marie Canadian Tire Automotive Service Centre)
NEWS RELEASE
CANADIAN TIRE
*************************
The local Automotive Service centre owned by Mr. Mark Barsanti has achieved national recognition for its improvements in the short time since the re-birth of its automotive operations.
Mr. Jamie Kearns, Canadian Tire's Regional Vice President of Store and Automotive Operations, was quick to contact the store with the news.
"The turnaround in Sault Ste. Marie has been dramatic", says Kearns. With over 485 locations across the country this puts the Sault Ste. Marie operation in the top 5% in the nation.
"We set a goal very early on, to be the best in the country" says Barsanti, "this is just one step toward that goal."
Both Barsanti and his General Manager, Mr. Todd Black, attribute the improvement to their change in business approach and credit their team of employees for the results.
"The local market has made it clear they support our move away from commission-based sales and service. Our business principles are now in line with those of the people of the Sault", notes Black, "Without our staff delivering on the honest straight forward approach we have chosen, we would not be so successful in the implementation of this change."
The ownership of the local Canadian Tire Associate store located at 200 McNabb Street changed in February of 2012 when Mark Barsanti acquired the operation.
Shortly thereafter he set about reinvigorating the Automotive Division with several business and organizational changes including the installation of Todd Black in the role of General Manager of the Automotive Division.
*************************