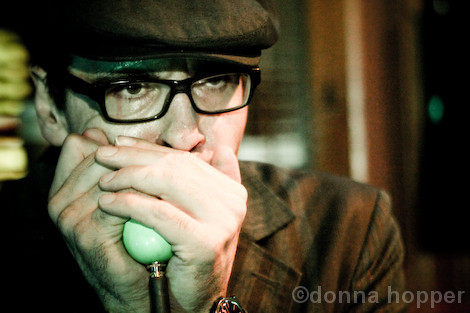 Al Wood was pretty much born with a harmonica in his mouth.

Born and raised in Sault Ste. Marie, the Ottawa-based blues man told SooToday.com that his father began giving him harmonicas when he three or four years old.

"I honestly thought that every kid had a harmonica all the time and that everyone played it," Wood explained. "For me as a kid, it was just a question of how and when you played it, and to what degree. It was like breathing. I play guitar as well, but for me it will always be the harp."

As the front man and main songwriter for Al Wood and the Woodsmen, he was in town this past weekend to celebrate the band's second release, Right On Cue.

The celebration, hosted at the Water Tower Pub by the Sault Blues Society, saw Wood joined by members of the local incarnation of the band - Cliff Alloy (drums), Frank Deresti (bass), and Lindsay Pugh (guitar and vocals) - as they performed tracks from the new CD, and favourites from the first release Mood Swingin' Blues, as well as a few blues standards.

The near sold out crowd was also treated to special guest performances by Jay Case and Rusty McCarthy, as an added saucy surprise, the boys married blues and burlesque as local dancer Tallulah Gin was invited on stage for a number.

Obviously very proud of this newest release, Wood told us the recording is a bit more stripped down and representative of the band's live performance than that of Mood Swingin' Blues.

"It's very sincere, deep down and from the heart," he said.

Long-time collaborator Lindsay Pugh was also front-and-centre for all aspects of creating Right On Cue - from song selection and order, to album artwork - and the all-original album includes two tracks co-written by Wood and Pugh.

Woods told us he and Pugh have a few more tunes tucked away for future projects and hopes to record more very soon.

"I didn't feel as though we should go right back in a record after [Mood Swingin' Blues] because it was more of a studio construct and the band actually formed out of the CD," said Wood. "But right now I'm thinking I want to record more."

Right On Cue is currently available for purchase on iTunes and at Al Wood and the Woodsmen live performances.

As for the Sault Blues Society, it was recently announced that it will host the first annual Sault Blues Festival at the Water Tower Pub from Wednesday, June 6 through Saturday, June 9, 2012.

Sault Blues Festival schedule

Wednesday, June 6

Rusty McCarthy and The Dirty River Blues Band featuring The Ladies Sing The Blues.

This presentation is free courtesy of The Water Tower Pub, The Sault Blues Society and event sponsors.

Thursday, June 7

The Bebop Blues and Jazz Band featuring Jeff "King" Holmes, Martin "Wildman" Virta, Josh "Fleet Fingers" Norling, Ed "Traps" Young, Rusty "Bluesman" McCarthy and special surprise blues legends.

This presentation is free courtesy of The Water Tower Pub, The Sault Blues Society and event sponsors.

Friday, June 8

Steve Strongman (voted 2012 Blues Guitarist of the Year) - Hot Chicago and Delta Blues.

This performance also features his brand new CD release A Natural Fact.

Saturday, June 9

The David Rotundo Band featuring award-winning harmonica player David Rotundo with special guest Juno Award-winning blues keyboardist, Julian Fauth.

Ticket cost:

Wednesday and Thursday - Free

Friday and Saturday - $20 for the general public, or $15 for Blues Society members.

Tickets are available at Algoma's Water Tower Inn and Suites front desk.

Since the Festival will be held at the Water Tower Pub with a capacity of 180, tickets will be limited and are sure to sell out.

For more information about the Sault Blues Festival and other Sault Blues Society initiatives, please click here