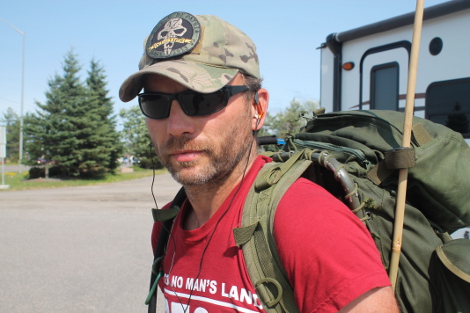 Three men, each of them Canadian Forces veterans who have battled with Post Traumatic Stress Disorder (PTSD), are currently making a trek across Canada on foot to raise awareness of PTSD and encourage others who suffer from it to seek help.
Steve Hartwig (pictured), Jason McKenzie and Scott McFarlane, veterans who served together with the United Nations Protection Force in the former Yugoslavia in 1992 and 1993, stopped in Sault Ste. Marie Monday while on their Into No Man's Land journey across Canada.
Hartwig has blisters on his feet because of the daily walk.
"The blisters, the physical exhaustion, represents something tangible that people can see, but when people have PTSD it's the emotional and psychological exhaustion that people don't see," Hartwig said to SooToday.com.
Hartwig is doing a 32 kilometre forced march daily, split into two 16 kilometre parts, with a break between each.
The term "forced march," Hartwig said, is being used because soldiers must do forced marches during training and march long distances in actual armed conflict situations, with PTSD being a "forced march" and a conflict in itself for those who suffer through it.
McKenzie and McFarlane are also marching several kilometres a day (McKenzie about 25, McFarlane about 16).
Two of the men march at one time, carrying heavy military backpacks (representing the burden of PTSD), while the third drives alongside with a truck and small trailer.
Many PTSD sufferers are soldiers, police officers and paramedics who have experienced injury or witnessed violence and death, haunted by the memories of what they have seen or felt themselves.
"The Canadian Forces have better, immediate care now for PTSD, but many people choose to medicate themselves with drugs and alcohol and they don't do the activities they used to do with family and friends," Hartwig said.
When in Yugoslavia, Hartwig's military vehicle went over an anti-tank mine.
"It all happened so quick, and you deal with it after," Hartwig said.
"Every time you see a dirt road or overgrown trees, the anxiety and tension is still there so that when you come home, you're afraid of walking on the grass, afraid of going out at night, afraid of what's in the trees, and you're hyper-vigilant."
There was no support for military PTSD sufferers in 1992-93, McKenzie said.
"A lot of procedures that are in place today for PTSD are the result of our tour of duty, and the Canadian Forces and Veterans Affairs weren't prepared to deal with it then," McKenzie said.
Hartwig, who works as a full-time martial arts instructor, said counselling has helped him immensely, but it took a long, frustrating time to get healthcare professionals to understand PTSD and 'talk it out' with him appropriately.
McFarlane suffered burns in Yugoslavia, his life saved by Hartwig.
He was evacuated home, and he said the traumatic incident forced him to withdraw, reluctant to communicate with others.
With counselling, McFarlane said he too is dealing with the frightening memory.
"It's still a healing process, there have been some emotional times," McFarlane said.
McFarlane left his job as a coal miner to join the Into No Man's Land journey out of gratitude to Hartwig, a desire to help others with PTSD, and a way to bring closure to his own tour of duty.
McKenzie went through his own horrifying experience in Yugoslavia when he and his comrades nearly drowned in an armoured personnel carrier, swept over with water while attempting to cross a river during flood season.
"I definitely get nightmares…I won't sleep properly for a few days and my anxiety gets worse," McKenzie said.
McKenzie said being self-employed as a contractor, able to set his own hours, has helped him cope with PTSD.
In a disturbing trend, the federal government has recognized that 50 Canadian soldiers who were veterans of the Afghanistan War have committed suicide as a result of PTSD.
That is approximately one-third the number of Canadian troops who were actually killed in battle in Afghanistan.
McFarlane, in fact, is carrying his backpack in honour of Corporal Stuart Langridge, a PTSD sufferer who committed suicide in 2008.
In addition, the RCMP states there have been 31 PTSD-related suicides within its force since 2006.
McFarlane, however, said he and his two comrades are not out on their tour to bring attention to their own experiences or blame anyone for the many PTSD-related suicides.
Rather, the three men said they are out to help remove the stigma many PTSD sufferers feel, encourage them to talk about how they are feeling instead of withdrawing and bottling it up, seek counselling or non-traditional, alternative methods of healing, and draw attention to services now offered to PTSD sufferers which were not available in the 1990s.
It is felt the current clinical model (medications) is not working.
It is vital to seek help for the sake of the victim's spouse and children as well, Hartwig said, as PTSD also takes its toll on families.
Into No Man's Land ('no man's land' being a reference to the horrors of World War I) is not a large organization, but the three men are being supported by friends and volunteers across Canada.
Hartwig said he hopes to raise not only awareness but funds to help PTSD sufferers.
Funds raised would go to such things as referral services (for counselling and mentoring), day trips (to help PTSD sufferers get over their withdrawal and get used to the outdoors again), and specially-trained service dogs (for that emotional support that dogs can bring).
The three men said motorists passing by have honked their horns in support, with many stopping to shake their hands.
Hartwig lives in South Surrey, B.C., McKenzie in Regina Beach, Saskatchewan, and McFarlane in Sparwood, B.C.
The Into No Man's Land journey began in Victoria, BC June 23 and is on track to end in St. John's, Newfoundland September 15, Hartwig said.
For more information on the tour and its progress, or to make a donation, go to www.IntoNoMansLand.com
The team may be contacted by e-mail at info@intonomansland.com