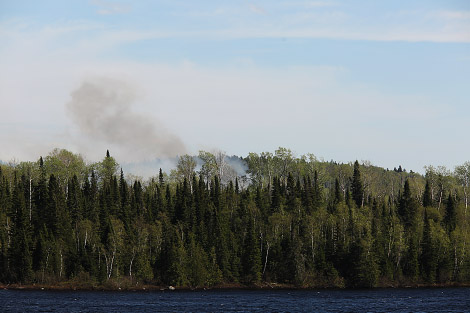 NEWS RELEASE
MINISTRY OF NATURAL RESOURCES
*************************
New Fires
Two fires were confirmed on June 16, both located northwest of Chapleau.
Chapleau 3 is out at 0.2 hectares and Chapleau 4 is under control at 0.1 hectares.
Chapleau 4 is expected to be extinguished by day's end.
The current forest fire situation remains relatively quiet, with two active fires in the region.
Fire Hazard
Cloudy skies with showers and possible thunderstorms will cover most of the region.
Winds will be light to moderate with temperatures in the low twenties.
No improvement in weather is anticipated throughout the day.
The fire hazard is high in the far north, but fluctuates from low to moderate in the central and southern parts of the region.
Regional Synopsis
Forty-two fires have been confirmed in the Northeast Region to date, burning a total combined area of 101.7 hectares.
Be FireSmart!
About 200,000 hectares of forest are burned each year and forest fires can cost millions of dollars to put out.
Often, unattended campfires are the cause.
If you're going camping and plan to have a campfire, please ensure you build a safe campfire.
Keep your campfire small, have water nearby and never leave it unattended.
Once you are finished, make sure your campfire is completely extinguished.
Under the Forest Fires Prevention Act (FFPA), if you start a wildfire, you could be held liable for the costs of suppressing the fire.
For tips on how to Be FireSmart and ensure your campfire is safe, visit www.ontario.ca/fireprevention.

For more information about the current fire situation, visit www.ontario.ca/forestfire.

Report forest fires north of the French and Mattawa rivers by calling 310-FIRE (3473).
In southern regions, forest fires can be reported by calling your local fire department.
*************************