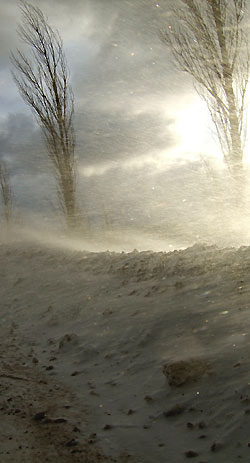 SPECIAL WEATHER STATEMENT
ENVIRONMENT CANADA
*****************************
WATCHES/WARNINGS IN EFFECT FOR NORTHERN ONTARIO.

SNOW SQUALL WARNING FOR: SEARCHMONT - MONTREAL RIVER HARBOUR - BATCHAWANA BAY.
SNOW SQUALLS WITH LOCAL HEAVY SNOW AND BLOWING SNOW THIS MORNING.
SNOW SQUALLS HAVE MOVED INTO THE REGION FROM LAKE SUPERIOR AS EXPECTED.
ADDITIONAL SNOWFALL AMOUNTS OF 5 CM ARE EXPECTED FROM THESE SNOW SQUALLS BEFORE THEY END EARLY THIS AFTERNOON.
IN ADDITION STRONG NORTHWEST WINDS GUSTING TO 60 KM/H WILL RESULT IN FREQUENT VERY LOW TO AT TIMES NIL VISIBILITY IN BLOWING SNOW.

DANGEROUS WINTER DRIVING CONDITIONS FROM NIL VISIBILITY IN HEAVY SNOW AND BLOWING SNOW, AND FROM RAPIDLY ACCUMULATING SNOW ON UNTREATED ROADS ARE EXPECTED.

WATCHES/WARNINGS ENDED FOR NORTHERN ONTARIO
SNOW SQUALL WARNING ENDED FOR: SAULT STE. MARIE - ST. JOSEPH ISLAND.
SNOW SQUALL WATCH ENDED FOR: MANITOULIN ISLAND - BLIND RIVER - THESSALON.
THE POTENTIAL FOR SNOW SQUALL CONDITIONS HAS NOW ENDED IN THE AREA.
*****************************