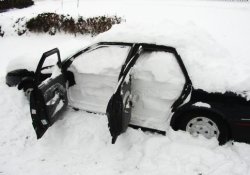 SPECIAL WEATHER STATEMENT
ENVIRONMENT CANADA
*************************
Snowfall warning in effect for:
Agawa - Lake Superior Park
Searchmont - Montreal River Harbour - Batchawana Bay
Snow at times heavy tonight and through Thursday.
A developing low pressure system will move south of the regions tonight and give heavy snow to the regions tonight and Thursday.
For areas around Lake Superior, the heaviest snow will fall overnight and through Thursday morning where 15 centimetres of snow is expected.
Areas east of Lake Superior towards Gogama will see the heaviest snow begin Thursday afternoon and continue through the night. Storm totals near 20 centimetres are possible in the warned areas.
Special weather statement in effect for:
Sault Ste. Marie - St. Joseph Island
Snow at times heavy spreading toward Northeastern Ontario by Thursday morning.
A developing weather system will track towards Ontario on Thursday.
Snow associated with this system will spread into Northeastern Ontario overnight and become heavier Thursday evening.

Snowfall warnings have been issued east of Lake Superior from Montreal River to Gogama where 15 cm is likely and the heaviest snow will occur Thursday evening.

Snowfall amounts are forecast just below warning criteria for Timmins and for the Kirkland Lake - New Liskeard - Temagami regions but may exceed 15 cm in 12 hours and a snowfall warnings may be required.
There will be a transition to rain over southern sections, from about Sault Ste Marie through North Bay and southward on Thursday night, with a risk of brief freezing rain during the transition.
Rainfall amounts with this low pressure system will be in the 10 to 20 millimetre range and rainfall warnings will not likely be issued however the situation will be monitored.
The public is advised to monitor future forecasts and warnings as warnings may be required or extended.

Please monitor the latest forecasts and warnings from Environment Canada at www.weatheroffice.gc.ca.