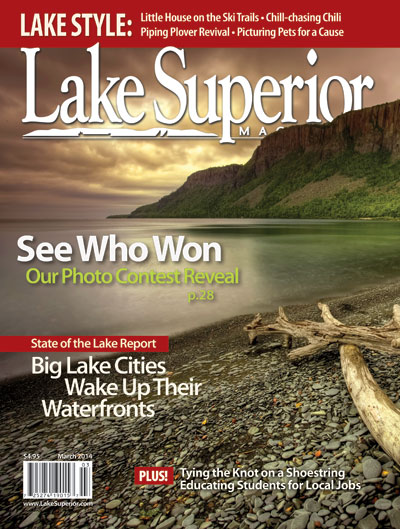 NEWS RELEASE
LAKE SUPERIOR MAGAZINE
*************************
A darkened sky behind a fresh view of the famed Sleeping Giant on Thunder Bay earned admiration, awe and the Grand Prize for Jakub Sisak in the 19th Lake Superior Photo Contest announced in the current February/March issue of Lake Superior Magazine.
The photo is also on the cover of the issue.
The issue, available from the publisher and on newsstands, features 25 winning images in the categories of Lake/Landscape, People/Humor, Nature and Artsy/Altered.
The images encompass the life of Lake Superior, ranging from a pale green caterpillar on a brilliant pink blossom to a peaceful reflection of a child watching the ripples from his stone thrown into the Big Lake.
Winning photographers – and winning photos – came from all three states and the province beside Lake Superior and beyond.
"The explosion of digital photography has created an amazing proliferation of fantastic photos for our annual Lake Superior Photo Contest," said Lake Superior Magazine Editor Konnie LeMay. "It gets delightfully harder and harder for the judges to choose just a few winning images."
Jakub Sisak of Thunder Bay, Ontario, captured his image on the pebble beach behind the ridge along the Sibley Peninsula.
His photo earned him the Grand Prize of $200, a one-year subscription to Lake Superior Magazine, a 2014 Lake Superior wall calendar and a 2014 Duluth wall calendar, both produced by Lake Superior Magazine.
His photo was one of more than 1,450 entered into the contest from across the United States and Canada.
Beside the prizewinning and honorable mention photos shown in the magazine, additional finalists are featured on the website www.LakeSuperior.com.
Top-prize winners included:
Lake/Landscape – First Place to a lush, textured view of the falls on Union River in Michigan's Porcupine Mountains Wilderness State Park by David Braithwaite of Ontonagon, Michigan. Second Place to northern lights and a hint of the Milky Way in the sky above Elbow Lake on the Gunflint Trail in Minnesota by Nance Knauer of Minneapolis.
Nature – First Place to a caterpillar nestled into a pink flower at Rossport, Ontario, by Mark Vanderkam of Guelph, Ontario. Second Place to a great gray owl in flight in Duluth, Minnesota, by Liisa Jacobson of Duluth.
People/Humor – First Place to a child contemplating the ripples caused by his thrown stone in Lake Superior at Brighton Beach in Duluth by Mary Amerman of Duluth. Second Place to a whimsical view of a man in the Big Lake, lounging under an umbrella and watching a passing canoe at Batchawana Bay in Ontario by Geri Turchet of Sault Ste. Marie, Ontario.
Artsy/Altered – First Place to a brown-toned image of sailboats in Thunder Bay by Morris Chisholm of Thunder Bay. Second Place to a lightning strike viewed through the old ore dock in Marquette, Michigan, by Alex Maier, Marquette.
First Place recipients will receive a magazine subscription and a wall calendar, while Second Place winners get a subscription and a mini Lake Superior calendar.
Winners and honorable mention awards are featured in the February/March issue of the magazine.
Additional finalists are shown on the web at www.lakesuperior.com.
All winners, including honorable mentions and finalists, get an award certificate.
The deadline for the 20th annual Lake Superior Photo Contest is October 20, 2014.
See details online at www.lakesuperior.com for upload instructions and details.
To buy the February/March issue, contact Lake Superior Magazine online or call 888-BIG LAKE (888-244-5253).
Lake Superior Magazine is a family-owned, bi-monthly publication of Lake Superior Port Cities Inc., which also has a line of Lake Superior Collection products and books.
Visit the outlet store at 310 E. Superior St., Duluth.
*************************