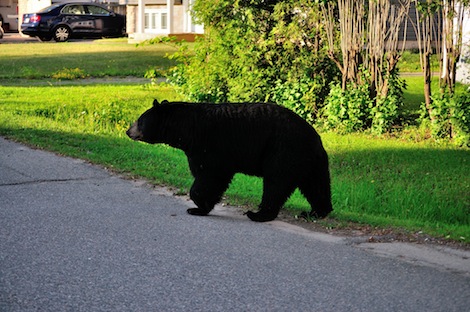 Sault Ste. Marie MPP and Minister of Natural Resources David Orazietti has shot back at critics from two animal rights groups who are taking the Ontario government to court over the spring bear hunt pilot program just as it gets set to begin May 1.
Unlike the previous annual spring bear hunt that was done away with by the Mike Harris Tories in Ontario in 1999, the proposed spring bear hunt under the current Liberal government will take place on a pilot program basis, between May 1 to June 15, 2014 and 2015.
The program will be implemented by the Ministry of Natural Resources in eight areas in Ontario known for nuisance bears, including Sault Ste. Marie and area.
City councils in Northern Ontario communities, including Sault Ste. Marie, have chosen to opt into the program.
Animal Alliance of Canada and Zoocheck Canada say mother bears will be killed during the hunt, leaving their cubs orphaned.
The groups say that amounts to animal cruelty, and they hope the hunt will at least be delayed when it comes up in court April 29.
"I'm disappointed in that type of action," Orazietti said to SooToday.com Tuesday.
"It really demonstrates a disconnect with the public safety concerns Northerners have expressed in regards to this issue."
"This is a huge public safety issue in Northern Ontario," Orazietti said.
"Last August in Cochrane there was a bear in a home near a family that narrowly escaped being injured or killed, and these types of incidents are becoming all too frequent in Northern Ontario."
"We've proposed a very strategic approach with this pilot program in eight out of 95 wildlife management units in Ontario and the rationale for moving forward is public safety."
"When you look at incidents in schoolyards when children can't go out for recess, teachers wearing bear whistles, city police officers having to shoot black bears in the middle of communities in Northern Ontario, it's not acceptable, and I don't believe it would be acceptable to the individuals who are proposing this type of action (taking the government to court)."
"I'm sure their children go to school without this type of threat and they don't have these concerns, so what it demonstrates to me is a lack of understanding of the safety issues Northern Ontario residents face," Orazietti said.
Saying it would be "irresponsible" for the government not to proceed with the spring bear hunt as a pilot program for the sake of public safety, Orazietti said the hunt solution has come only after a long period of trying other methods designed to address the nuisance bear problem which have proven to be expensive and less-than-successful.
"We've learned over the last 15 years from various strategies that have been used by the ministry…this is not a knee jerk reaction, it's a strategy based on what we've learned in attempting to reduce human-bear incidents."
"We tried a costly trap and relocation program which has been proven largely ineffective and we cannot continue to ignore what is a real public safety issue in this province."
"Seven other provinces in this country have full jurisdiction-wide spring bear hunts and they've continued to have them while Ontario has cancelled it (the spring bear hunt, to protect mother bears) for the past 15 years."
"The black bear population in Ontario is very robust, in the range of just over 100,000 black bears and our ministry intends to ensure that is the case for generations to come, but this is an immediate public safety issue that needs to be addressed," Orazietti said.
Meanwhile, in regards to the upcoming court ruling on April 29 concerning the bear hunt, Orazietti said he and the MNR are taking a wait and see approach.
"We'll wait to see the outcome of that," Orazietti said.