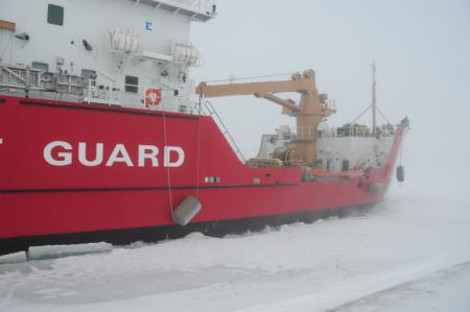 Two freighters bound from Duluth, Minn. are battling their way through what a United States Coast Guard spokesperson called "brutal" and "extreme" ice conditions on Lake Superior to reach the Soo Locks.
The vessels, John P. Munson and Cason J. Callaway, are following the USCG Cutter Mackinaw but are making very slow progress.
Randy Elliott, vessel traffic manager with the USCG stationed in Soo Michigan, said Tuesday that the convoy left Duluth around the time the Soo locks opened for traffic on March 25.
As of late yesterday, the southbound convoy was located about 40 kilometres south of Michipicoten Island, and were confronting ice three to three and a half feet thick with windrows six feet high in some places.
The three vessels opted not to use their normal route across the lake, and instead are following the north shore of Lake Superior, Elliott said.
No commercial ships, either north or southbound, have locked through since the official opening a week ago.
That also is not normal.
"Usually at this time of the year we would see 12 to 15 vessels north and southbound a day using the locks," Elliott said.
Meanwhile there are three northbound freighters parked just south of the entrance to the lower St. Marys River.
"They are waiting for the first downbound vessels to clear [the locks] before they head up," Elliott said.
The Canadian Coast Guard Cutter Pierre Radisson, is expected to arrive in the Sault sometime today to assist its American counterparts, who "are stretched with the resources we have" in opening the shipping channel, Elliott said.
On a separate note, he said Essar Steel Algoma has not had any freighter traffic yet, which is also abnormal for late March.
"Their shipping season usually starts around the time the locks open even if the ships were not using the locks."
As for comparisons with previous years, Elliott, who has been stationed in Sault, Mich. since 2002, said this winter has been the most severe in his memory.
He noted weather experts are comparing the extreme conditions this winter to those in 1996 and 1978.
(PHOTO: The U.S. Coast Guard Cutter Mackinaw pushes through thick ice last week as it passed through the Soo Locks enroute to Lake Superior. U.S. Coast Guard photo/Petty Officer 2nd Class Levi Read)