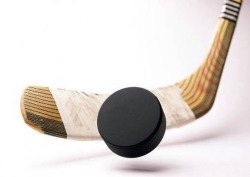 The semi-final round of the Sault Ste. Marie high school hockey league kicked off on Sunday night at the Essar Centre with a pair of games.
In the early game, Jason Uhl scored 2:40 into overtime to give St. Mary's a 5-4 win over St. Basil to take a 1-0 series lead. Jaron Rowe, Michael Avati and Cody Poirier had a goal and an assist each for St. Mary's in the win. Jake Wright also scored in the win.
David Toppan had a goal and two assists for St. Basil while Mario Taranto chipped in with a goal and an assist. Josh Fisher and Taylor Lamorie also scored for St. Basil in the loss.
In the other game, Chris Moskal's second period goal held up as the winner as Korah blanked Superior Heights 3-0. Zack Quesnele got the shutout while Jay Johnson and Matt DiBerardino also scored in the win.
Both series are back in action on Wednesday night at the John Rhodes Community Centre. Superior Heights and Korah play in the early game at 6:30 p.m. while St. Mary's and St. Basil are on the ice at 8 p.m.
****
AWARD WINNERS
Between games on Sunday night, the regular season award winners were announced.
Team Awards
CJIC Cup (Regular Season Champion) – St. Mary's
Memoirs Trophy (Best Combined Goals Against) – St. Mary's
John Jagger Memorial Trophy 9Least Penalized Team) – White Pines
Player Awards
MVP – Jaron Rowe (St. Mary's)
Leading Scorer – Jaron Rowe (St. Mary's)
Most Valuable Defenceman – Alex Morin (St. Mary's)
Jim King Memorial Trophy (Most Gentlemanly Player) – Jay Johnson (Korah)
Rookie of the Year – Matt Keenan (CASS)
Academic and On-Ice Performance – Colton Manchulenko (Superior Heights)
Matt Howard Award – Sam Good (CASS)
All-Star Teams
1st Team
Goalie – Zack Quesnele (Korah)
Defencemen – Alex Morin (St. Mary's), Matt DiBerardino (Korah)
Forwards – Jaron Rowe (St. Mary's), Matt Keenan (CASS), Jason Uhl (St. Mary's)
2nd Team
Goalie – Braeden Turco (White Pines)
Defencemen – Zack Junor (CASS), Sam Aceti (St. Basil)
Forwards – Erik Paradis (St. Mary's), Jay Johnson (Korah), Jack MacLeod (Korah)
3rd Team
Goalie – Michael Pelland (St. Mary's)
Defencemen – Thomas Reid (Superior Heights), Blake Antonello (St. Basil)
Forwards – Colton Manchulenko (Superior Heights), Bryce Campbell (CASS), Ryan Morin (Superior Heights)