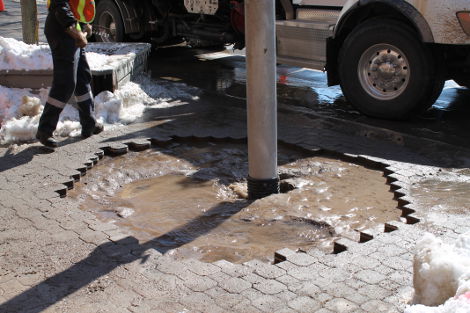 PUC workers were forced to narrow westbound traffic on Queen Street in the downtown core down to one lane Sunday afternoon due to a water main break.
The break happened in front of the CIBC branch on Queen Street, between Brock and Bingham Streets, at approximately 12:30 p.m., the PUC told SooToday.com.
It was a muddy mess.
A member of the PUC crew at the scene told us crews had to remove sidewalk bricks and dig approximately five feet below the surface to isolate the problem.
Work was still being performed well after 5 p.m.
A PUC employee told us it can take at least five hours, or as much as up to 16 hours, to repair such a problem, depending on its severity.
Traffic on Queen Street East was light when SooToday.com arrived at the scene.
The PUC told us the cause of the water main break was unknown, though weather at this time of year was likely the culprit.