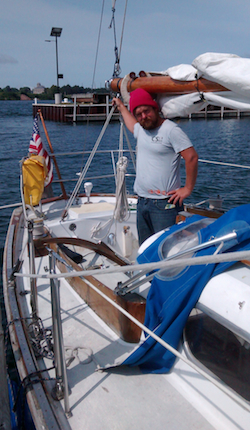 Scott Kroehle is living his dream.

The 31-year-old from Cleveland, Ohio is completing his maiden voyage on his classic 35 foot Alberg sailboat.

The boat was berthed at the Roberta Bondar Marina next to behemoth luxury yachts more than twice its length this past week.

Scott was heading home after completing a month long trip that took him down the southern shore of Lake Superior and eventually to Thunder Bay.

For part of the voyage he had the company of two friends, but after leaving Marathon, on the north shore, he single handed his boat back to the Sault, his first experience at solo sailing.

The Alberg 35 with its narrow beam and full keel was designed to withstand the worst that the world's oceans can hurl at it, unlike the large power yachts docked next to it.

He bought the boat at a marina on Washington Island, in Lake Michigan close to Green Bay, Wisconsin in February 2013.

Between 1963 and 1967, 280 of the Alberg 35s were built and his is number 182.

It is very clear within minutes, however, that the sailboat represents more than a production number to Scott, and is a "lady" he is prepared to trust his life to.

It is one of the few Albergs that has not touched salt water, Scott said.

Ironically, he renamed his boat, Behemoth, in a ceremony that involved breaking a bottle of Miller HiLite, the champagne of beer, on its hull.

He said the boat, that will be 50 years old next year, was the kind of "affordable tank" that will take him across the Atlantic Ocean, and ultimately on a circumnavigation of the world, a dream he has held since he was a 16-year-old teenager.

Scott admitted he does not come from a sailing background or a sailing community, and explained his fascination for the nautical life to a sense of "wanderlust" and a tad of "craziness" he cannot explain since his family stock in Ohio dates back to the pioneer era.

In 2005, when he graduated from college with a degree in English, he decided he was finished with academia, and did not want to become a lawyer or banker like some of his friends.

"I'd had enough of the intellectual life then. I hopped on my motorcycle and put everything in an old duffle bag and headed south," Scott said.

That journey eventually led him to Texas and then New Orleans where he rented an apartment near the river.

Out of cash, he began to look for work in any kind of trade where someone would hire him.

He got a job as a carpenter's assistant working on projects to restore mansions in the historic part of the city.

Three weeks into the job, hurricane Katrina smashed into New Orleans.

"I thought if it's the end of the world, I want to see it. I ended up hopping on my motorcycle with a bottle of bourbon, and went to this 300 year-old mansion we'd been doing restoration work on," he said. "I rode out the storm with the housekeeper, her husband, a Baptist preacher, and the boss's son. The owners had disappeared. Windows kept blowing out and we boarded them up from the inside."

It wasn't to be Scott's only hurricane experience.

In 2012, his 27 foot Catalina, Dorothy, the first sailboat he had owned, was wrecked during Hurricane Sandy on the shores of Lake Erie, along with about 40 other boats at the marina where he kept her.

The storm had whipped up 25 foot waves on shallow Lake Erie and a three foot hole was ripped in the hull of his boat when it crashed up on the breakwater rocks.

He ended up cutting up the sailboat, and selling her for scrap.

Regarding his first experience on Lake Superior, the largest and perhaps most feared of the Great Lakes by all sailors, Scott said the worst weather he experienced was on Whitefish Bay after leaving the MacArthur Lock heading north in early July.

Whitefish Bay always has been considered treacherous by vessels because of the unpredictability of its winds and the funnel affect from the narrowed lake channel.

Scott said on that first day on Superior he and his companion faced strong gusting winds and waves that piled up and crashed over the bow of the sailboat and filled the cockpit with icy cold water that left his feet numb by the time they had tacked into the wind to the old harbour at Whitefish Point after four hours of hard sailing.

"I had these old shoes and couldn't use the autohelm in waves like that so my feet were frozen for hours to get to Whitefish Marina that was deserted."

The other powerful memory he has of Superior was the frequent dense fog sometimes lasting several hours until it finally lifted late in the morning.

On one occasion, Scott said, he had left a port and he was straining to see in visibility reduced to about 50 feet when he saw a small ketch off his port stern appear out of the fog.

"I was drinking my coffee and then out of nowhere this little ketch appears with no one on deck, about 50 feet off my port side," he said. "I'm thinking it is a ghost ship. It disappeared within 20 seconds. It was the creepiest thing I ever saw."

Scott said, however, among his fondest memories from the sailing adventure were the interesting people he met in ports-of-call where he stopped at marinas on both the American and Canadian sides of Superior.

"It's funny, you do a lot of hitchhiking when you're sailing. You step off the dinghy and see if there is somebody hanging around," Scott said. "There's a technique. I usually say, excuse me, is there a bar around here or where's the town? Generally, people end up saying, just hop in, I'll take you there. It works every time. It's fun because you meet some interesting characters."

One of his favourite memories, he said, was in Marathon, on the north shore.

He had hitched a ride to a popular watering hole in town where he enjoyed the company of two motorcyclists for most of evening who were on their way to Toronto to attend a concert.

Later that night, he was driven back to his dinghy by Shane and Vanessa, grandkids of the owners of the pub where he'd spent the evening.

He invited them both to come out and see his sailboat but when he turned to start the small motor he quickly realized it was gone, apparently stolen by someone during his evening of revelry.

Scott accepted an invitation from his new friends to crash on the couch at their home, recognizing that he was "half in the bag" and shouldn't try to row out to his boat.

The next day, he was invited to a family reunion of the Murray clan who happened to own the local pub where he had partied.

"The whole Murray clan was in town from the far reaches of Canada and we ended up at a bowling alley. Here I am at this huge family reunion. The family matriarch, it is her 75th birthday, and someone else is celebrating their 50th wedding anniversary," he said. "They put on this whole play, really well done, with cardboard props and everything, sort of a retrospective on the grandmother's life. It was just hilarious. She was in a band in the 1970s, and she hopped up on the stage dancing and singing. It was just fantastic."

"You can spend a month in New York City, and walk away, and say, yes, that was fun, or you can go to the smallest town you've ever heard of in your life and come away with a whole new family," he reflected. "Sailing is a great way to travel because you hit all those kinds of places."

When Scott arrives back in his home port of Cleveland he will spend time with his parents, who have accepted his adventurous lifestyle, although he said they insist he call everyday to let them know he is still alive.

He also has to catch up on some work with his business partner back home.

Over the next few months, he plans to refurbish or replace the teak decking on his beloved sailboat.

He also wants to learn to use a sextant, the ancient mariner's method of determining position, and not have to rely on modern GPS tracking.

"I might not even move off the boat; I'm so used to living and sleeping on it now," he joked.

Next summer, his plan is to sail down the St. Lawrence River and to do a coastal run down the Atlantic Coast to New York and return home via the Erie Canal.

After that, his dream remains to cross the Atlantic and then circumnavigate the world.

It is not a dream that anyone who has met this engaging and intelligent young man would expect him to abandon.