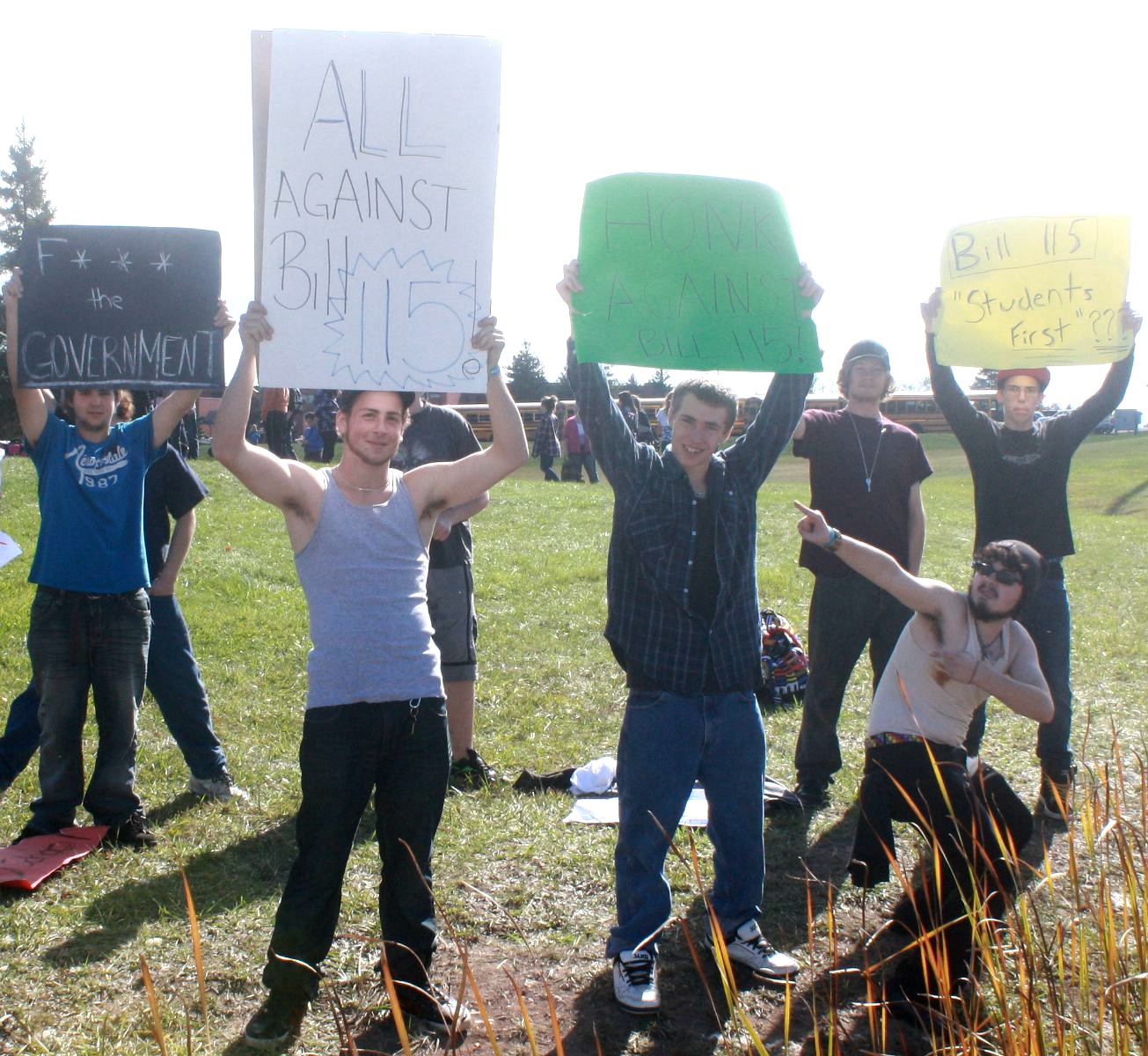 This morning, about 9 a.m., over 150 students stood up and walked out of class in protest.
Yesterday, students at Central Algoma Secondary School (CASS) heard that extra curricular would be canceled indefinitely because their teachers would not be participating in those activities and that's what sent them out of class this morning.
At first they took to the highway and walked a short distance down it, but police were called as a precaution, said Algoma District School Board Superintendent of Education Asima Vezina.
Students returned to school property without incident and OPP remained on the scene to make sure students stayed safely off the highway.
"They are trying to take sports away from our school," said Rod Moreau, a student at CASS. "We don't think that's right."
Teachers in some schools across the province are working to rule in response to recent legislation (Bill 115) by the Ontario government that freezes their wages and severely limits their right to bargain collectively.
Some students at CASS said they believed it wasn't fair that teachers were using them to improve their contract while others said they supported the teachers against Bill 115, called Putting Students First.
Moreau said students just stood up and walked out of the school together shortly after 9 a.m. to make the point that extra curricular activities are important to them.
Just over half of them returned to class at lunch time but about 70 remained on the school lawn around the sign and near the highway by the beginning of class after lunch.
Vezina said that all but about 40 students had returned to class before the end of the day.
Some of the students SooToday.com spoke with reported that the Vice Principal, Jim Belsito, was telling them they should go back to class or face suspension.
Vezina assured SooToday.com that no students were suspended for walking out of class.
The full text of a release from the board follows.

****************************
Student walk-out at Central Algoma Secondary School

The Algoma District School Board (ADSB) confirms that approximately 150 students walked out of class this morning at Central Algoma Secondary School (CASS).

Students indicated that they were protesting the proposed interruption of extra-curricular activities at the school due to labour negotiations as per the Putting Students First Act introduced by the Government of Ontario in September.

School administration closely monitored the student protest with the support of the Ontario Provincial Police, to ensure student safety.

By afternoon, all but approximately 40-50 students returned to class.

School administration has advised the students at Central Algoma Secondary School that they are expected to be in classes for a regular school day tomorrow.

The Algoma District School Board reminds parents and students that there are other effective ways to protest or show support for an issue without disrupting the school day.

Teachers are committed to ensuring the instructional integrity of the school day, and we are asking parents and students to also respect instructional time in our classrooms.

We believe parents play a key role in ensuring their children are well informed about the current labour situation, and providing acceptable ways for their children's voices to be heard.

We appreciate the support of parents to help us ensure that learning and instruction in the classroom are not interrupted.

Once again, we wish to emphasize that extra-curricular activities have always been considered voluntary, as they take place outside of the instructional day.

Extra-curricular activities characterize the professionalism and dedication that our staff brings to student learning both inside and outside the classroom.

Currently, there are varying levels of extra-curricular activities occurring across the district and the province.

We assure you that the Algoma District School Board is committed to continuing to negotiate in good faith with all employee groups and we are confident that we will be able to work through this process with the professionalism and dedication our staff has always demonstrated.

We will continue to provide updates for parents on our website (www.adsb.on.ca) as needed.

****************************
Earlier SooToday.com coverage of this story