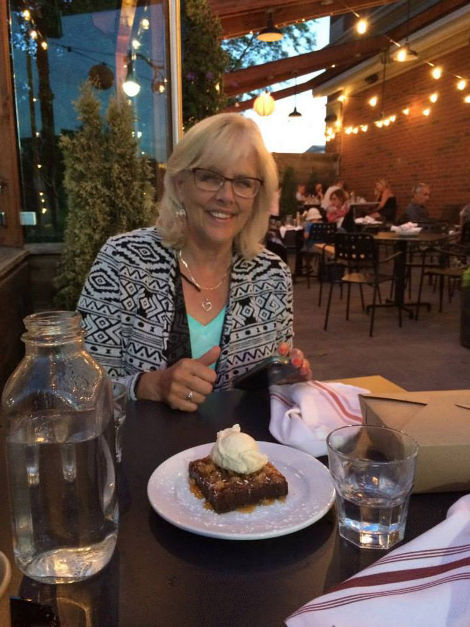 Ronna Dawson is bravely facing the challenges of a double lung transplant.
Apart from all that will be involved with the operation, it has become necessary for Dawson to put her Sault Ste. Marie home up for sale.
Dawson will need to pay rent for an apartment close to Toronto General Hospital's lung transplant clinic during what could be a two-year waiting period for suitable donor organs.
Dawson, however, is not facing all of this alone.
Her son Sean, 25, moved back from B.C. to care for his mother a few months ago, organized fundraisers for her and has helped with trips back and forth from Toronto.
Sean intends to stay with and care for Ronna in Toronto while he works.
"My family and friends have been absolutely wonderful, I can't imagine being someone without that kind of support," Ronna told SooToday.
"He (Sean) was in British Columbia for three years and came home to care for me, I raised a good one there."
"It's everything (caring for his mother)…that's what I'm living for," Sean told SooToday.
"She's a really good lung transplant candidate…I'm really hopeful and positive this operation will go through."
"I'd like to ask people to continue to share and help us through our journey," Sean said.
Ronna, a former Algoma Public Health employee, began having difficulties with her own health in 2007 and, in 2014, was diagnosed with Idiopathic Pulmonary Fibrosis, a progressive disease with no known cause or cure.
The disease has taken its toll on her daily routine.
Ronna, 63, enjoyed activities such as yoga, bicycling and swimming, but is now on oxygen 24 hours a day and it's difficult for her to get around.
Still able to drive a motor vehicle, she now must organize her day trips more than before.
After paperwork is completed at Toronto General Hospital's lung transplant clinic in late January, Ronna goes on a waiting list for life saving double lung transplant surgery, which involves a waiting period of up to two years while suitable donor organs are found.
She will be issued a paging device and must arrive at the hospital as soon as the clinic calls with the go ahead for transplant surgery.
She must go for physiotherapy three times a week while waiting for surgery.
Post surgery follow up requires at least a three month stay.
Ronna and Sean have found an apartment near Toronto General but the rent is $2,500 a month (the two will also have Ronna's vehicle at their disposal).
The province, Ronna said, can provide up to $600 a month to help with living expenses, but she still has had to put her Sault home up for sale.
"We have to try and make this happen. I choose hope over fear," Ronna said.
"I would encourage people to make an organ donation, for people to sign their organ donor forms…it's just so amazing people out there have done that."
Meanwhile, friends have organized a fundraiser to help Ronna with her moving expenses.
The Get Ronna Lungs benefit committee will be hosting a pasta dinner January 21 at The Grand Gardens North, with live music, a cash bar and prizes to bid on.
Tickets are $30.
For more information on this fundraiser, call Christena Laitinen at 705-946-9799.
An online fundraiser, through fundrazr, is also being held for Ronna and has so far raised $7,035.
(PHOTO: Ronna Dawson of Sault Ste. Marie is relocating to Toronto with her son Sean while she waits for double lung transplant surgery. Photo supplied by Sean Dawson)