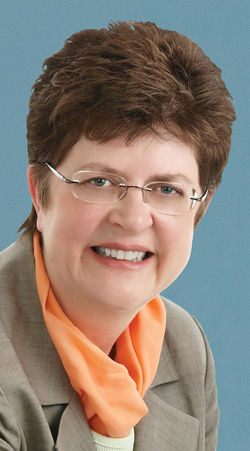 Ontarians will be going to the polls June 12.
After Ontario NDP leader Andrea Horwath said Friday her party cannot support Premier Kathleen Wynne's minority Liberal government's budget, which was unveiled Thursday in the Ontario legislature, Wynne called on Lieutenant Governor David Onley to officially dissolve the House.
Horwath has said Liberal scandals and broken promises are the reasons her party is withdrawing its support from the Liberals.
Celia Ross, the provincial NDP candidate for Sault Ste. Marie (pictured), says she is ready to start her campaign.
Ross, an Algoma University professor of French literature who served as the postsecondary institution's president from 1998 to 2010, said she agrees with Horwath's view.
"The Liberals brought in a budget that made 70 promises, 50 of which have new spending commitments at a time when Ontario budgets aren't showing surpluses, they're showing deficits year after year…this budget has a bigger deficit by $3.4 billion over last year," Ross told SooToday.com Friday.
"It's a lot of spending promises and not enough to address the need to create jobs and stabilize our economy."
"It's not a progressive budget, it includes certain measures that we really disagree with such as corporate giveaways and it does not address the need for job creation," Ross said.
Last year's deficit budget passed with NDP support, but is the NDP now saying 'enough' to deficit budgets?
"What the NDP is saying is that when promises are made we need to see them fulfilled, for example, in last year's budget the Liberals took up a proposal from the NDP to reduce auto insurance by 15 percent and we haven't seen this happening."
"They also said wait times for home care are going to go down and we haven't seen that happen," Ross said.
"Another thing that really does disturb me, because it's a fairly simple one to implement, is that the NDP said 'there have been a lot of scandals and a lot of mismanagement, let's have a financial accountability office,' and the Liberals agreed to this."
"The Liberals said it would be open and running by December, it's now May and there's no financial accountability office," Ross said.
"Another promise the Liberals haven't brought to fruition is the Northern Ontario Growth Plan."
"That plan has been in place for quite a while now and nothing is happening…all these things concern me."
"They don't keep their promises and this budget comes out with a slew of promises…we can't trust them to keep them and use taxpayers dollars in the best interests of the people of Ontario."
As NDP candidate for Sault Ste. Marie, Ross said she will be rolling out 'over the next couple of weeks' what she will be campaigning for locally, just as the party rolls out its broader provincial platform.
"I'm all for good planning and implementing promises that are made for the benefit of communities and for the province, so I'm very supportive of this call for an election and I'm ready to go and campaign."
"Something I'm very proud of, and this comes from Statistics Canada, is that NDP governments provincially have had the most balanced budgets and the least deficits of all parties," Ross said.
"I know the NDP, not just short-term but long-term, will put measures in place that will benefit people not only next year but will create an economy that will benefit the people of Ontario for many, many years."