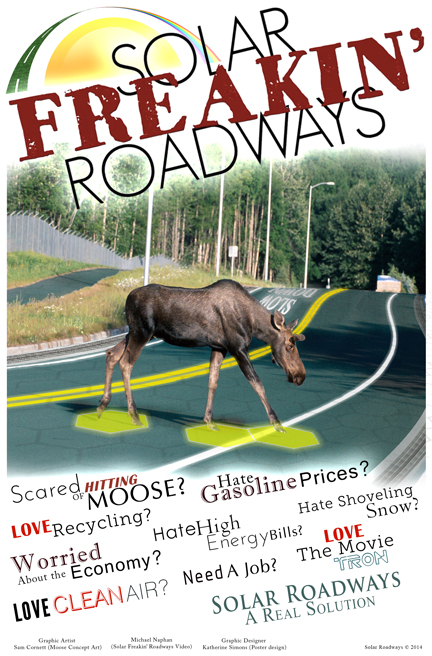 "If we applied the human brain-power used to drill through the bottom of the ocean for oil to engineering alternative energy sources what could we not achieve?" says the creator of the viral video Solar Freakin' Roadways.
He's a Sault Ste. Marie ex-pat and graduate of St. Basil Secondary School, class of 2002, and Michael Naphan was captivated by the idea of solar roadways since he first heard about the project about a year and a half ago.
"It caught my attention. It's a very engaging technology," Naphan told SooToday.com. "So I contacted the Brusaws and asked how I could help."
Scott and Julie Bursaw of Sandpoint, Idaho, are the creators of Solar Roadways, a modular paving system of solar panels that can withstand the pressure of the heaviest vehicles and can be installed on roads, parking lots, driveways, sidewalks, bike paths, playgrounds - any surface under the sun.
Initially Naphan was going to animate a small part of a video that would show a moose walking across a solar roadway.
When the Bursaws told him the Indiegogo campaign they had launched on April 21 was starting off slower than they hoped he decided he could do more for them.
Naphan combined his talents as a computer animator, script writer and graphic designer to create Solar Freakin' Roadways.
On May 18 the video was posted on YouTube, just as the Brusaw's Indegogo campaign was starting to take off.
On June 20 the campaign closed having raised $2.2 million USD, 220 percent of it's million dollar goal.
Later this summer, Naphan plans to go out to Sandpoint, Idaho, and meet Scott and Julie Bursaw and see how he can be involved in the next steps of the project.
"More testing needs to be done but I believe it's possible," Naphan said. "Even if this technology doesn't catch on it shows what can be done. It deserves a chance."
That's why he volunteered to do Solar Freakin' Roadways.
And he also convinced others to volunteer their time and efforts to make the video.
"I really liked Michael Sempert's music," said Naphan. "He had just released a new CD when I was working on the video and I thought one song on it would be perfect for the video."
So Naphan contacted Sempert who freely gave permission for Naphan to use the song on the video.
While it was the technology that initially captivated Naphan he said what keeps him coming back is both a belief in the technology and an appreciation for the way people who have never met each other and live thousands of kilometres apart can collaborate on a project like Solar Freakin' Roadways and help accomplish things that could make the world a significantly better place.
"I'm happy people are taking this [solar roadways] seriously," he said. "It could spur developments in technology that could completely change the way we live."
He is not alone in his desire to support the project.
At the close of the Indegogo campaign to raise funds and awareness of Solar Roadways, 48,476 people had pledged their support with currency.
To learn more about Solar Roadways, visit the company website