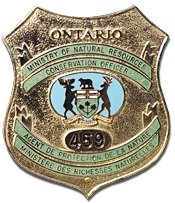 NEWS RELEASE
MINISTRY OF NATURAL RESOURCES
*************************
A Sault Ste. Marie man has been fined $3,000 and lost all hunting privileges for one year for illegal hunting.
Blake Chiarot pleaded guilty to hunting a cow moose without a licence after being apprehended in Hearst during a moose hunting trip.
The court heard that on October 5, 2013, Chiarot shot and killed a cow moose while party hunting.
Fully aware that his hunting party had a proper cow moose validation seal, Chiarot attempted to cover up the illegal hunt by attaching a game seal belonging to another individual located in Sault Ste Marie, approximately 700 kilometres from the location of the hunt on Oba River.
Conservation officers made contact with the hunter on October 6, 2013, quickly unravelled the cover up and seized the cow moose.
Justice of the Peace Jean- Marie Blier heard the case in the Ontario Court of Justice, Hearst Ontario, on January 14, 2014.
It is a requirement for the game seal holder of the moose being hunted by a party to be within five kilometers of the person harvesting the animal.
For further information on hunting regulations, please consult the 2013-2014 Hunting Regulations Summary available at ontario.ca/hunting.
To report a natural resource violation, call 1-877-TIPS-MNR (847-7667) toll-free any time or contact your ministry office during regular business hours. You can also call Crime Stoppers anonymously at 1-800-222-TIPS (8477).
*************************