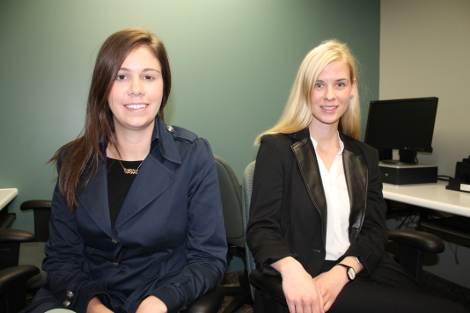 Wednesday marked the official ribbon-cutting ceremony and tour of the Group Health Centre's new Clinical Learning Centre.
The Centre is designed for five family physicians, six medical learners and a coordinated support team.
Two of the medical learners, who are medical school graduates completing their residency at the new facility, are Lisa Perry (left) and Joanna Freytag (right).
Both women are Sault Ste. Marie natives, happy to be a part of the new Group Health Centre facility in their hometown.
Both have committed to practice medicine in Sault Ste. Marie upon completing their residency requirements.
Perry, who studied medicine in Australia, told SooToday.com: "It's good to be back on familiar ground, good to be where I have family. People really need healthcare in the North, so it's really a privilege to be here."
Freytag studied medicine in Poland, and told us: "I'm really excited to be back home, to be training at home, and getting to know the doctors here and the patients in the community. It's good to be back in familiar territory."
Both have been doing their residency in Sault Ste. Marie since last fall.
The Group Health Centre's Dr. Chris Rossi, shown in our photo gallery with Perry and Freytag, is one of the five family doctors who will be working with the six medical learners.
The Clinical Learning Centre is a medical sight to behold, with state-of-the-art equipment in its fifteen examining rooms (one of them set aside for medical procedures), five private offices, a computer room where learners can access information electronically, and a waiting area.
Even the doors to each examination room are new and improved.
They are much wider, to address accessibility issues.
Dr. Roger Strasser, dean of the Northern Ontario School of Medicine (NOSM), was unable to attend Wednesday's ribbon-cutting ceremony but, by teleconference, praised the Group Health Centre's role in Sault Ste. Marie's healthcare system and stated the community plays a key part in NOSM.
Strasser said that NOSM grads joining the medical work force in Sault Ste. Marie is an exciting development.
Algoma District Medical Group CEO Dr. David Fera remarked: "We remember it the way it was years ago, we had 18,000 to 20,000 people with no family doctor. Now Health Care Connect has 2,000 people on the waiting list for a health care provider."
"Much of this improvement," Fera said, "is due to the work our teachers and NOSM have done in bringing residents to Sault Ste. Marie and have them stay and set up their medical practice here. We hope that with the Clinical Learning Centre, we'll get more people to come here and train, learn and get to love Sault Ste. Marie and provide medical care for the community."
Group Health Centre President and CEO Grant Walsh noted the opening of the Clinical Learning Centre is one good way to celebrate the GHC's 50th anniversary.
The Group Health Centre serves 64,000 patients with 73 physicians and 300 employees overall.
The GHC Clinical Learning Centre is situated within 5,000 square feet of renovated space at the Willow Avenue facility.
The newly-renovated area is a $1.1 million project funded by the Group Health Centre and a $550,000 grant from the Ontario government's Northern Ontario Heritage Fund.
An abridged news release issued yesterday by the office of David Orazietti follows.
**************************
Orazietti announces official opening of GHC Clinical Learning Centre

Provincial investment in front-line health care benefits Sault and area residents

SAULT STE. MARIE - Yesterday, David Orazietti MPP and Group Health Centre officials celebrated the completion of the Group Health Centre Clinical Learning Centre which was supported by a $550,000 investment from the provincial government.

"The Clinical Learning Centre will not only provide more front line services to patients it will also increase training spaces for medical students," said Orazietti. "The province has delivered unprecedented support for health care in Sault Ste. Marie."

In November 2012, MPP Orazietti announced provincial funding of $550,000 provided through the Northern Ontario Heritage Fund Corporation's (NOHFC) Community Development Program.

This funding was utilized to convert nearly 5,000 square feet of existing space into 15 new exam rooms, a learning centre, a central nursing hub, increased office space, a reception station and a waiting area.

The new front-line health care service area provides medical students, many of which are from Sault Ste. Marie and the surrounding area, with better quality training space while also helping to decrease wait times for patients.

Earlier in 2012, the province provided the Group Health Centre with a new $38 million five year agreement that secures funding for local programs and services, such as the cardiac care rehabilitation program, and creates a new governance structure for more efficient operations.

The Ontario government has increased health care funding by over 60 percent since 2003, increased medical school training spaces by 38 percent, increased nurse practitioner training spaces by 135 percent, opened the first new medical school in 30 years, more than doubled the number of training spaces for foreign trained doctors and licensed more new physicians than at any other time in Ontario's history.

In addition, the 2013 Ontario Budget, if passed, proposes to increase investment in home and community care by $260 million in 2013-14; and focus new investments on providing care in the community to increase options available to seniors to help them stay at home longer.

These investments will result in more home care for seniors, as well as provide relief for caregivers and support those facing mental health and addictions challenges.

**************************