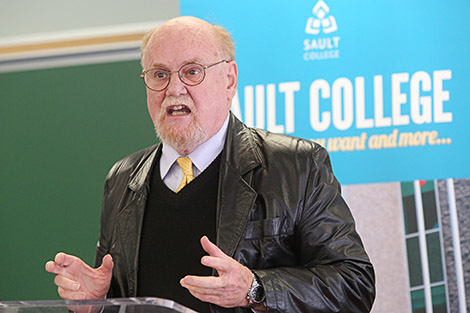 NEWS RELEASE
SAULT COLLEGE
*************************
Dr. Common stays on as College President
Sault College's Board of Governors has asked Dr. Ron Common to stay on for an additional three years.
The College has enjoyed a high level of success during Common's presidency and the task of finding the right person to build on the next level of achievements has proved challenging.
"A thorough search has been conducted to attract a strong pool of applicants for this important leadership position," notes Carla Fabbro, Chair, Sault College Board of Governors.
"Even though we received many impressive applicants for the position, we were not completely satisfied with the overall fit during this phase of the search, and have invited Dr. Common to stay on with us to continue the fine work he has begun with our organization, which he has agreed to do," she adds.
A search committee was formed in 2013 and engaged Waterstone Human Capital, a well-regarded executive search firm, to conduct the recruitment process.
Heather Connelly, Waterstone's Managing Director, has been spearheading the effort.
"When we began the search, we received invaluable input from stakeholders with which to draft a profile for the position," says Fabbro.
"Staff and various community members were asked to complete a survey and participate in Presidential Search meetings to ensure that their insights were incorporated, and they did so. These consultations helped define the skills, expertise and experience needed to build on the College's success and position it for the future. Time and time again, we heard that sustainability was key to Sault College's success – and continuing to advance the great work we have begun with Dr. Common is vital to our continued success. Although there were a number of solid applicants in our initial pool of candidates, we did not feel it was time to move forward with the selection of one of them," she adds.
Sault College has garnered an impressive record of achievements in recent years.
The College's Key Performance Indicators are among the finest in the province, especially in relation to Student Satisfaction, where it is now ranked at No. 1 overall.
The organization also leads the way in overall quality of college facilities and resources, overall quality of the learning experience, and in overall knowledge and skills provided to students for their future careers.
The College has undergone an unprecedented level of expansion – both in student applications, enrolment, new programming and in the construction of new facilities under Common's leadership.
"I would like to thank the board, the faculty, the staff, administration and most importantly, the students for their support throughout the years, and I look forward to their continued support," states President Common.
"As a Sault College team, we have envisaged a number of initiatives to launch in the years to come, and I look forward to the challenge of leading their implementation."
"This is an exciting time for Sault College, and we are certain that Dr. Common will continue to work successfully with College staff, students, community partners and supporters to sustain and advance our mission as the pre-eminent student centred post-secondary institution in Ontario," states Fabbro.
"We are looking forward to continuing to work with him as he leads our organization well into the future."
*************************