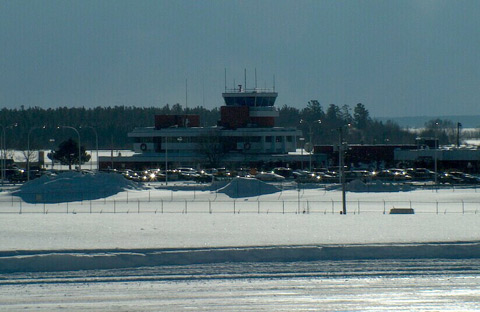 NEWS RELEASE
SAULT STE MARIE AIRPORT DEVELOPMENT CORPORATION
***************************
The Sault Ste. Marie Airport saw a record number of passengers travel in 2014 increasing 4.4 percent from the 2013 level to reach the new record level of 195,080 passengers.
This historical record since SSMADC ownership began in 1998 is a major increase from the record low of 121,991 in 2010 an improvement of 59.9 percent from that historic low in a short four year period.

Terry Bos CEO of the Sault Ste. Marie Airport Development Corporation stated that; "With the record level achieved in 2014 the SSMADC is anticipating the opportunity to attain its goal of 200,000 passengers per year in 2015, ahead of the schedule for such a goal as laid out in the new Business and Land Use Plan."

The Sault Ste. Marie Airport is home to four airlines that are all contributors to the success of the Airport.
Air Canada Express offers daily flights to Toronto Pearson Airport with connections world wide.
Bearskin Airlines provides flights to Thunder Bay and Sudbury with connections to many locations in Northern Ontario and Manitoba.
Porter Airlines provides daily service to the Billy Bishop Toronto City Airport with connections to their route network in Ontario through to Eastern Canada and the North Eastern United States, along with their new connections through their interline agreement with Jet Blue to locations in the United States and Caribbean.
Sunwing Airlines is the winter destination get away for Sault and area residents with direct flights to Punta Cana in the Dominican Republic on Fridays for the 2015 winter season.

Terry Bos added "At the end of the day it is the community of Sault Ste. Marie and area that will determine the success of the airport, the destinations to which the airlines fly, and the airlines that service the Sault. It is all about the number of people in the seats that determines the level of service. The Sault Airport still sees major leakage to other airports namely in the United States; with the new lower dollar and the lower air fares that have been seen the last few years with airline competition, the 200,000 passenger level with any luck is attainable."
***************************