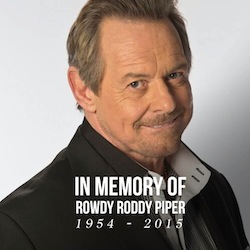 WWE wrestling legend Rowdy Roddy Piper (Roderick George Toombs) died today in his Hollywood home of natural causes.

Born in Saskatoon and raised in Winnipeg, Piper began his wrestling career in the early 70s before joining the World Wrestling Federation (now the WWE) in 1984.

Despite his popularity, he often played the villain and was voted by the WWE as the No. 1 Villain in Wrestling History.

Piper was inducted into the WWE Hall of Fame in 2005, and the Professional Wrestling Hall of Fame and Museum in 2007.

A statement posted to the official WWE website from Chairman and CEO Vince McMahon reads: "Roddy Piper was one of the most entertaining, controversial and bombastic performers ever in WWE, beloved by millions of fans around the world. I extend my deepest condolences to his family."

Although he was never crowned world champion, he achieved one WWE Intercontinental championship, one World Tag Team championship, and several National Wrestling Alliance (NWA) championships.

As an actor, Piper is best known for his role in John Carpenter's 1988 sci-fi film They Live.

He also appears as Nicky Stone in The Masked Saint which was filmed in Sault Ste. Marie.

The film is set for theatrical release on January 8, 2016.

Piper was 61 years old and is survived by his wife Kitty and their four children Anastacia Shea, Ariel Teal, Falon Danika, and Colton Baird.
(PHOTO: The Masked Saint official Facebook page)