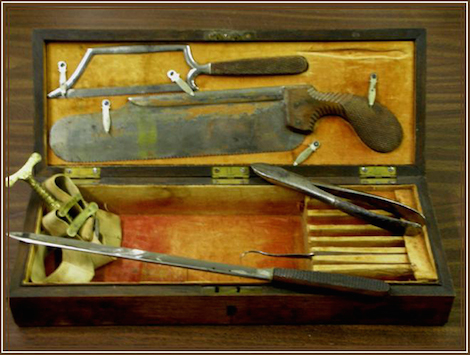 It's hard not to cringe at the thought of being on the receiving end of any one of the instruments contained in this wooden doctor's kit, which is housed at the Sault Ste. Marie Museum.
The museum has this to say about the kit and the doctor who wielded the tools within:
*************************
"Sawbones kit"
Wooden box with a brass plate in the centre and key hole in front.
The box is lined with gold coloured velveteen.
It contains a variety of medical instruments - two types of saw, forceps, long bladed knife, curved metal pick, canvas strap with a brass buckle and turn screw.
All instruments have wooden handles.
This set was used by Dr. Robert Simpson the Sault's first physician who travelled by boat to serve both sides of the St. Marys River in the 1860s and 1870s.
Dr. Simpson had his offices at the northwest corner of Albert and East streets.
*************************
(PHOTO: Doctor's kit belonging to Dr. Robert Simpson, the Sault's first physician. Museum archive photo)