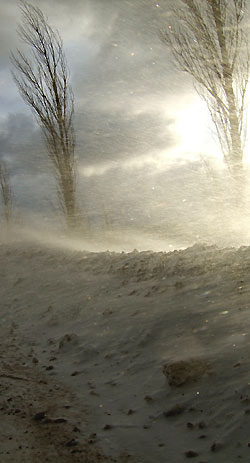 SPECIAL WEATHER STATEMENT
ENVIRONMENT CANADA
*************************
Special weather statement issued for:
Sault Ste. Marie - St. Joseph Island, Greater Sudbury and vicinity, Elliot Lake - Ranger Lake, Timmins - Cochrane - Iroquois Falls - Chapleau - Missinaibi Lake, Gogama - Foleyet, Kirkland Lake - Englehart, New Liskeard - Temagami
Current details:
Snow and blowing snow reducing visibilities.

A strong southwesterly flow is occurring over much of Northeastern Ontario in advance of a cold front.
Ahead of this cold front general snowfall amounts of 5 to 10 cm are forecast for this evening.
The combination of strong winds and falling snow will serve to reduce visibilities to less than a kilometre at times in snow and blowing snow.
Conditions should improve by Friday morning as colder drier air moves into the area.

Motorists should drive according to the road and weather conditions and be prepared for sudden low visibility in areas of blowing snow.
*************************