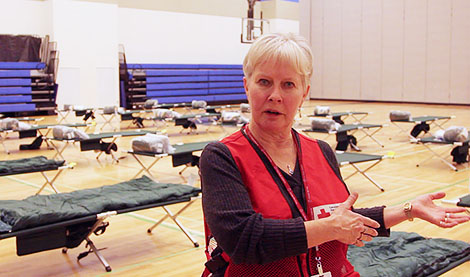 The gymnasium at Superior Heights Collegiate and Vocational School looked less like a basketball court on Saturday and more like an emergency shelter.
The Sault Ste. Marie and District branch of the Canadian Red Cross were on-hand to to test their shelter set-up skills in case of an emergency.
A mock scenario was created involving a train derailment in which 200 Sault Ste. Marie residents were forced to evacuate their homes and seek shelter.
Although no real emergency existed, the training is timely considering the recent ice storms and power outages in Southern Ontario and the train derailment last summer in Lac Mégantic, Quebec.
According to Red Cross spokesperson Beverly McCoy (shown above), "There are all kinds of things that happen out there these days and we definitely need to be prepared for that. That's our job as Red Cross volunteers and disaster management volunteers, is to practice our skills so if that happens we are ready".
Twenty-one local volunteers participated in the exercise, setting up cots in the school gymnasium, as well as tables and signage for the support staff.
"It takes a lot of volunteers," says McCoy "we have good training and anybody who is out there that would like to join us, we are more than happy to have them come in".
The Red Cross Northern Raffle fundraiser continues in Sault Ste. Marie, with various tickets locations around the city as well as at their office at 105 Allard Street.
The Red Cross also has a local calendar for 2014, showing volunteers in action that is also available at the Allard Street office
Proceeds from these projects help fund their programs and services, such as the Disaster Management Team.