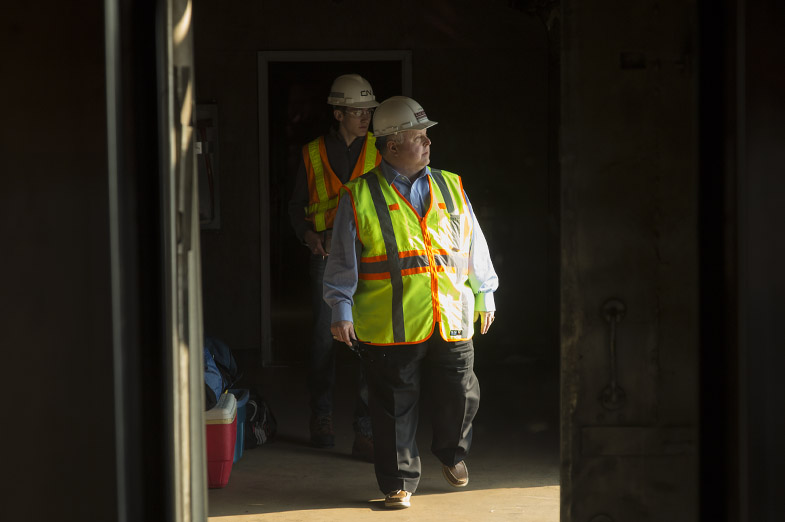 B. Allen Brown says his company is still willing to operate the Sault-to-Hearst passenger line if CN and the Economic Development Corporation will have him.
Brown said he made the "sensible" offer Wednesday afternoon to Tom Dodds, CEO of the Sault Ste. Marie Economic Development Corporation, to run the train until such a time as a new third-party operator can be found.
"There's no Plan B. If CN doesn't operate the train no one else is certified and qualified other than Railmark to do this," Brown told SooToday. "I'm willing to do this and even say while we're doing this, 'Are you looking for another operator? Go ahead,'"
Or, Brown said, maybe everyone will learn to get along.
"You obviously have problems with the company — or me — so let's run the train short term and let you guys go out and find a new operator. If that doesn't work out then we're certainly willing to go long-term with our original plan," said Brown.
CN and the ACR regional stakeholder passenger service working group announced last week that the Hearst run would cease to operate as of Wednesday after Railmark failed to come up with the financing the city required Brown have in place before it would agree to begin handing out a $5.3-million federal subsidy.
Brown said he has built up two and a half months of equity to run the train and will give the working group until November to find a replacement operator, should it choose not to continue with Railmark.
He concedes previous problems with the schedule were due to not having enough crews.
"I've got two more people to bring into the program and I can have them ready by August. The reason I didn't bring them on in the first place is how irresponsible would it be if I don't have the contract and have to lay people off? I just don't like having to do that," he said.
"Not having the reimbursement agreement signed earlier stopped me from doing a lot of things, including hiring new people," added Brown.
Al Errington, who is a member of the ACR Passenger Service Stakeholders Working Group and owns a lodge along the line, said another problem was the lack of adherence to a schedule.
"People depend on it. We would never know from day to day which way the train was running or if it was running at all," said Errington.
By the time a new operator could be found, the current tourism season would be over.
"They'll have to get someone who can adhere to the regulatory requirements. They have to get someone CN will accept on their railroad. And they have to get someone whose business plan is accepted by Transport Canada," said Brown.
Errington agrees with Brown on that point.
"We haven't given up on CN either, though," said Errington.
Dodds was not immediately available for comment on Railmark's offer.
Earlier Wednesday, CN made a statement that it would not provide interim service, but would support the working group in finding another third-party operator.
Brown said he could be ready to run the train as early as Saturday, but unlike last time will insist the reimbursement agreement with the city be signed before the train pulls out of the yard.
Part of his revised proposal calls for the payment of money he said he is owed for running the service since May.
Brown said the plan is a win for everybody.
"The customers are going to have train service — hopefully in the next few days — I am going to get reimbursed, CN is going to get reimbursed and the stakeholders have three more months to find another operator. Or maybe in the meantime we can learn to all get along with each other, I don't know," he said.
Errington said he agrees Brown is entitled to reimbursement for costs incurred while operating the train since May — or at least some of them.
"The funding is for running the train from Sault Ste. Marie to Hearst three times a week return trip and he hasn't been doing that the last four weeks," he said.
Brown said he is eager to get down to brass tacks and get back to work, but will move on to other projects should he need to.
"Here I'm the new guy in the sand box and nobody likes me — so how long do you want to stay in there and play?" said Brown.
A news release from Railmark Holdings Inc. follows:
*************************
Railmark Canada Limited announced today that late this afternoon it had offered a sensible, short term solution to resume the passenger train service from Sault Se Marie to Hearst during this critical time of year.
With all of Railmark's operating certificates in place, passenger train liability insurance and trained crews certified to operate on CN's rail lines, the less intrusive option is to allow the subsidy to flow to Railmark and operate the train throughout the rest of the season, providing time for the EDC and Stakeholders to locate another operator that they may be more suited with, or find common ground with Railmark for a project which it had already been awarded.
During the last ten weeks Railmark crews have performed safely and in conformance to a host of new federal railroad regulations enacted over the past two years by Transport Canada.
In Railmark's offer it would immediately provide service to both ends of the railroad on a scheduled basis while increasing its qualified staff so that after August 15, 2015 trains would be re-crewed in Hawk Junction on a regular basis to eliminate additional schedule risks.
In this offer Railmark has asked the EDC to re-set back to May 1, 2015 the reimbursement agreement which is practically complete and ready for signature.
Railmark would operate the passenger train service until another operator was chosen and in place by November 30, 2015 and would cooperate in the transition to the new operator.
In the event that the Stakeholders and EDC cannot locate another suitable operator whose business plan would be accepted by Transport Canada and allowed by CN on its railway, Railmark would remain willing to move forward long term with its original development plan.
Until a new operator could be finalized and in place by November 30, 2015 or Railmark chosen long term, Railmark would not launch its marketing and business development programs for the passenger train, with the exception of its eight (8) days of Holiday Trains expected to bring in 5,000 or more unique visitors into Sault Ste Marie during a normally slow 4th Quarter.
Railmark would expect to be reimbursed for its expenses back to May 1, 2015 and until the new operator is in place.
With the fact that Railmark has two and a half months of expenses that can be claimed for reimbursement, along with a proposed change in the reimbursement agreement that provides for CN to be paid their track access and other fees directly by the EDC, this lessens the financial pressure on the short term while the Stakeholders seek another operator during a time that service needs to be maintained.
Railmark would expect to sign the mostly completed reimbursement agreement prior to the resumption of service, which could begin as early as Saturday.
Additionally Railmark has offered to make detailed monthly operating reports to Council and to the Stakeholders and has established through its company structure, a Passenger Train Advisory Committee open to the Stakeholders.
Should Railmark be chosen once again to continue the service long term, Railmark will ship additional passenger equipment and an locomotive to the operation and launch its marketing and development plan.
Even though Railmark remains committed to this operation long term and its plan to make the train financially sustainable and reduce the government subsidy, the company will not stand in the way of the Stakeholders desire to seek another operator which they feel would serve their interests better.
This proposed offer made this afternoon both preserves that option for the Stakeholders and provides critically needed train service during a busy time of the year.
B. Allen Brown, CEO of Railmark Canada Limited commented, "There is no doubt that things could have been done differently on all sides. Each party could have done something a little bit better, but we cannot look back – we need to look forward to achieve results. It's time to come together and do the right thing for all of the people and businesses who depend so much upon passenger rail service along this line."
*************************
(FILE PHOTO: B. Allen Brown inspects a train at the CN yard in Sault Ste. Marie. Kenneth Armstrong/SooToday)