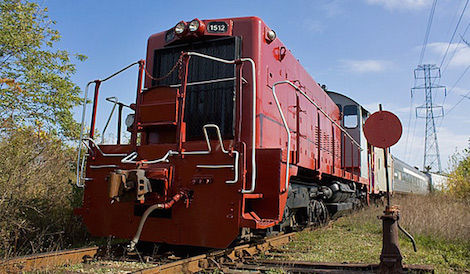 As a federal subsidy that keeps the Algoma Central Railway passenger service between the Sault and Hearst alive threatens to run out, a new operator has emerged looking to hire rail jobs for "the Sault to Hearst market."
Railmark Holdings and Subsidiaries says it is looking to enter the market and will be hiring 35 people for related jobs.

"We are a railroad organization and we are looking for railroad and customer service type jobs," said B. Allen Brown, president and CEO of Railmark, when reached by SooToday.
He said the Wixom, Michigan-based company is simply looking for workers.
"I need to start the process of looking for good candidates and good people," he said.

Brown did confirm that his company applied to Transport Canada to become a licensed operator in Canada and will operate as Railmark Canada Limited.

The company's slogan reads, "a new train of thought…" and Brown said he has experienced the rebirth of the U.S. Rail system.

"There are plans we have that will far exceed people's expectations," he said.
The federal government had been subsidizing the Algoma Central Railway's Sault Ste. Marie to Hearst passenger service to the tune of $2.2-million per year.

With an estimated 5500 passengers a year, the subsidy currently costs taxpayers $400 per person.
In December, the ACR Passenger Service Stakeholders Working Group presented a proposal to Transport Canada for a $7-million subsidy over five years as well as asking for approval of a draft agreement between CN and a third-party operator who is interested in operating the passenger service.

The identity of the third-party operator remains shrouded in non-disclosure agreements between the working group and CN.
The request also covered operation of the Agawa Canyon Tour Train.

Railmark says it is looking to hire people for various positions, including locomotive engineers, ticket sales, on-board hosts, food and beverage servers, restaurant staff and park-related staff.
Railmark says to email resumes to abrown@railmark.com or fax them to: (248) 960 – 9444 (U. S. fax number)
The following are the roughly 35 full- and part-time jobs Railmark says it is looking to fill:
*************************
RAILROAD OPERATIONS – including experienced locomotive engineers, conductors and railcar repair
CUSTOMER SERVICE & MARKETING – positions include ticket sales, reservations clerks and other marketing work
ON-BOARD TRAIN SERVICE – positions include car hosts, food and beverage counter service
FOOD SERVICE POSITIONS – positions include chef, chef staff, wait staff, dishwashers
PARK STAFF & SAFETY – positions to provide park maintenance, safety and customer programming
*************************
Editor's note: Sault Career Centre will be offering job seekers a means to apply for the above listings online and in the office on Monday.