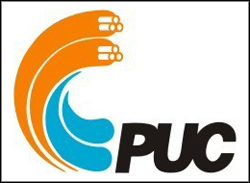 Dominic Parrella, president and CEO of the Sault Ste. Marie PUC, presented the utility company's annual report for 2013 to city council at its regular meeting Monday.
Parrella, accompanied by other PUC management officials and board members, displayed several charts to council showing the PUC is basically an efficient organization.
One of the favourable statistics shown to council indicated the average monthly residential electric bill is at $106.99, cheaper than other northern Ontario centres such as Thunder Bay, Greater Sudbury and North Bay.
Parrella also said the PUC continues to upgrade the city's electrical infrastructure, and successfully dealt with a high number of watermain breaks throughout this past, brutal winter.
However, questions from council inevitably turned to the topic of brown water incidents in the city's east end, another of which struck that part of the Sault Monday.
Steve Butland, Ward One councillor, told Parrella he again received a number of complaints by telephone from his constituents Monday, and asked Parrella if council and east end residents could have a timeline as to when the brown water incidents will come to an end.
"The brown water situation is not going to change soon…significant improvement will not happen until year's end," Parrella said.
Susan Myers, Ward Two councillor, said "people are exasperated" with the problem.
Myers said citizens have complained they are not given sufficient advance warning as to when brown water incidents, often due to PUC unidirectional flushing, may occur.
Myers said the PUC should "over-communicate" to the public, if necessary, as to when these incidents may happen.
Parrella said it is impossible to know exactly when they will occur and at which homes on specific streets.
Parrella said residents were informed in advance through the PUC website and electronic media outlets such as SooToday.com that the PUC's unidirectional flushing program, part of the company's Water Quality Improvement Project, would start Monday in the east end, and run through the summer and into the early fall.
The PUC website advises customers flushing operations will take place between 8 a.m. and 4 p.m. during weekdays, and that customers within the flushing area will receive a notice at their door at least one day before flushing starts.
However, the website states, there is a chance that during flushing activities, customers outside the immediate flushing area could experience discoloured water.
Instructions on how to deal with the brown water as best as possible are provided on the PUC website.
In February, the PUC Board of Directors approved a Preferred Strategy for Water Quality Improvement for Sault Ste. Marie's water supply.
The PUC acknowledges that the introduction of chlorine (also known as free chlorine) into the community's water October 27, 2011, in the Lorna Wells especially, has led to ongoing taste, odour and colour issues (and a great deal of public complaints, mostly from east end residents).
The use of free chlorine, particularly in the Sault's east end, has led to unexpected, unpleasant brown water incidents whenever the buildup of sediments in that area of the City's pipes system is disturbed.
East end wells have more iron and manganese in them, as opposed to wells in the rest of the community.
Short-term steps in the Water Quality Improvement Project include removing the Lorna Wells from daily service (which happened Monday, Parrella told council), and adding two additional advanced treatment methods (pH harmonization and corrosion control) into the treatment and distribution systems.
More details regarding flushing areas and schedules will be released to customers once they have been finalized, the PUC says on its website.
Stage Two of the PUC's program, if necessary, will run throughout 2015 and 2016, and involve complete construction of additional wells at Shannon and Steelton.
Also, if necessary, the PUC will use UV (Ultraviolet) disinfection as its new primary disinfection method at the Sault's other wells and use chloramine (not the currently-used free chlorine) as its secondary disinfection method if water taste, odour and colour issues continue.
The utility will also upgrade the Water Treatment Plant for additional capacity.
The final phase of Stage Two, in 2017, will consist of complete construction of UV disinfection systems if required, complete Water Treatment Plant upgrades and the permanent abandonment of the Lorna Wells.
Stage One of the PUC's program will cost ratepayers approximately $2.7 million, Stage Two (if necessary) will cost approximately $4 million (an approximate total of $6.7 million).