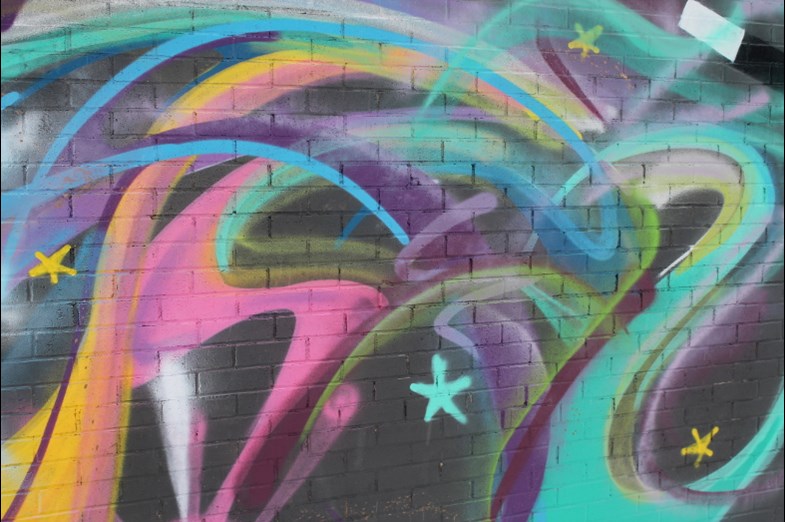 NEWS RELEASE
NORDIK INSTITUTE

*************************
On February 25 Sault Ste. Marie residents have an opportunity to explore the many perceptions of Graffiti through Cinema Politica's showing of the film, Roadsworth: Crossing the Line, followed by a panel discussion of local graffiti experts.
"The showing of this film and the panel discussion is very timely" says Elizabeth Cooke, a research assistant at NORDIK Institute and a member of the local chapter of Cinema Politica.
"Although graffiti has long been considered vandalism, people are beginning to recognize that it can actually be a form of community or street art and can make a contribution to the development of the creative economy" says Jude Ortiz, NORDIK Research Coordinator.
The film screening and panel discussion will take place at 7 p.m. at 180 Projects, an independent gallery located at 180 Gore Street.
Debates about graffiti in Sault Ste. Marie have resulted in the formation of a committee by City Council, as well as the development of "Graffiti Reframed", a project emerging from the Downtown Dialogue in Action project.
Sponsored by NORDIK Institute and the Arts Council of Sault Ste. Marie and District, and funded by the Ontario Trillium Foundation, "Graffiti Reframed investigates how building artistic capacity impacts youth identity" says Duane Moleni, Executive Director of the Arts Council. "With films and discussions such as Roadsworth, and skills development opportunities for graffiti artists, we hope to change the understanding of Graffiti and those who produce it in Sault Ste. Marie".
Doors open at 6:30 with the movie beginning at 7, everyone welcome, donation only.
For more information or to RSVP please go to www.facebook.com/events/1596314317266285/
Graffiti Reframed
Graffiti Reframed is a collaborative research project between the Sault Ste. Marie and Area Arts Council and NORDIK Institute, funded by the Ontario Trillium Foundation.
The project brings together a diversity of people, including youth, and organizations to gain a broad based understanding of graffiti and investigates whether building artistic capacity impacts youth identity.
It also creates opportunities for engagement and employment in the creative economy, fosters community pride, place-making and tourism opportunities.
For more information go to: http://www.nordikinstitute.com/archives/project/graffiti-reframed-2
NORDIK Institute
The NORDIK Institute is Algoma University's community based research institute.
It is committed to further developing research capacity by working closely with its community partners and providing mentoring to new researchers.
To date, it has completed over ninety research projects at the local, regional, and national levels, and currently has many research projects underway.
For more information go to: http://www.nordikinstitute.com/
Cinema Politica
CINEMA POLITICA Sault Ste. Marie (CP SSM) is the local chapter of Montreal based, non-profit, Cinema Politica Network.
CP SSM works to co-create a safe space for the community to gather and discuss relevant issues within the City and the world.
We screen alternative, independent, and radical political film and video, and the artists who dare to devote time, passion and resources to telling stories from the margins.
For more information go to: www.cinemapolitica.org/sault-ste-marie
*************************
(PHOTO: Mural seen at Parkland Public School in this SooToday file photo. Donna Hopper/SooToday)