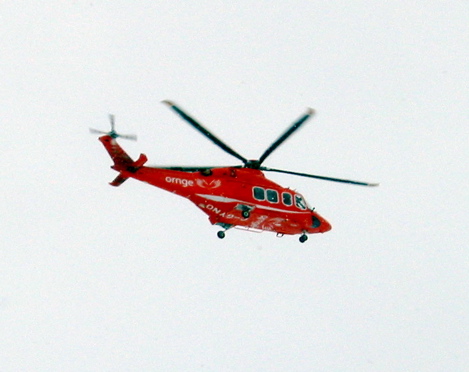 NEWS RELEASE
MINISTRY OF COMMUNITY SAFETY AND CORRECTIONAL SERVICES
************************
Review of deaths related to air ambulance transport leads to recommendations
A report into the deaths of patients transported by Ornge, released t[Monday], makes 25 recommendations to improve safety within Ontario's air ambulance transport system.
An expert panel struck by the Patient Safety Review Committee of the Office of the Chief Coroner was mandated to review deaths in which issues pertaining to air ambulance transport by Ornge may have caused or contributed to patient deaths.
After screening hundreds of cases in which death occurred following a request for an air ambulance, 40 were identified as requiring further review.
In eight of those cases, the panel concluded that operational issues had some degree of impact on the outcome, including five cases of possible impact, one case of probable impact and two cases of definite impact.
The recommendations, directed towards Ornge and the Ontario Ministry of Health and Long-Term Care, cover areas such as decision-making, the response process, communication, equipment, staffing, training and quality assurance.
The goal of the recommendations is to enhance Ontario's air ambulance transport system and prevent future deaths in similar circumstances.
Quick facts
Ornge provides critical care air and land ambulance transport to the people of Ontario.
The expert panel reviewed deaths that occurred between January 1, 2006, and June 30, 2012.
The expert panel consisted of Dr. Craig Muir as chair, Dr. Dan Cass, Dr. John Tallon and Dr. Jon Dreyer.
They were selected based on their professional experience.
During the review period, Ornge conducted nearly 10,000 air ambulance transports each year.
"The front-line staff of Ontario's air ambulance system provide excellent care to thousands of critically ill and injured Ontarians each year. Our aim in this review was to identify opportunities to make the system stronger and more effective, and to ensure that the people of Ontario have access to the best care possible when they need it most," said Dr. Dan Cass, interim chief coroner and chair, Patient Safety Review Committee
"It is the sincere hope of the expert panel that our efforts and the implementation of the recommendations will enhance public confidence in Ontario's air ambulance system." said Dr. Craig Muir, regional supervising coroner and chair, Ornge Air Ambulance Review.
*************************