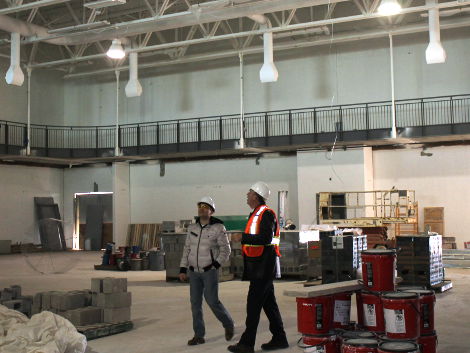 Prior to their monthly meeting Thursday, Sault College administration officials and Board of Governors members (along with SooToday.com) took a peek at how construction is coming along at Sault College's new Health and Wellness Centre.
The $12.5 million, 40,000 square foot facility is expected to be up and running in May.
The main attraction will be a new gymnasium, a home for varsity sports.
The gymnasium will include lots of space for seating, and features an upper concourse which will serve as a running track (or "walking track," for those of us who like to take it a bit slower).
The new building will feature several fitness rooms, a meeting space, a new Student Life Centre, academic space and a student restaurant.
The facility has plenty of windows to shed light on student activities.
Sault College states that, along with promoting sports, fitness and recreation, the Health and Wellness Centre will serve as a vital part of the curriculum for students in programs such as Fitness and Health Promotion, Occupational Therapy Assistant/Physiotherapy Assistant and Police Foundations.
The Sault College Students' Union has committed $3.9 million towards construction of the Centre.
That commitment, along with funding from Sault College's Inspiring Growth Capital Campaign funding (including a $1 million pledge from the City of Sault Ste. Marie), and a $4 million grant from the Ontario government's Ministry of Training, Colleges and Universities, has helped make the Health and Wellness Centre a reality.
Among those who went on Thursday's tour were Sault College President Dr. Ron Common, Board of Governors Chair Dr. Gina Mohammed, Vice President Academic Leo Tiberi, Vice President Finance and Administration Cecilia Bruno and EllisDon Project Coordinator Kenny Pierman.