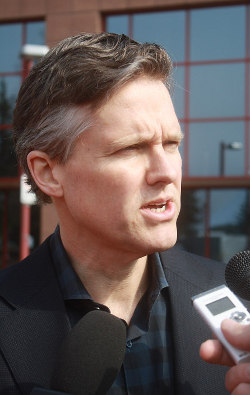 Privatization of the Sault Ste. Marie casino can only mean a better facility and more revenue for the city, says Ontario Lottery and Gaming (OLG) President and Chief Executive Officer Rod Phillips (shown).
Business is focused on business and profit while government is focused on governing and delivering services, he said during an announcement at the Roberta Bondar building
yesterday
.
For example, he said a private operator is much more likely to invest in a permanent structure to house the casino and replace the 20-year-old temporary structure that currently houses it.
He said any operator taking over the casino will also be taking on the agreement the casino has to continue to provide the city with a portion of the revenue from slot machines and will not be able to close the casino if it fails to thrive.
The process to sell off the Sault Ste. Marie casino will begin this spring, said Phillips.
"We will begin an open and transparent process to engage the private sector," he said. "All land based gaming facilities in Ontario will be managed by private operations under the strict control and monitoring of OLG."
Phillips said engaging private sector investors is vital to revitalize OLG's facilities so they can compete with other gaming facilities and to invigorate casinos, such as the Sault casino, that have seen declining revenues in recent years.
He said it was necessary to engage private sector investment because the Province is now, understandably, focusing its energy on reducing its deficit while maintaining vital services such as health care and education.
The modernization and invigoration plan announced last week will involve some investments in gaming facilities.
Investments, he said, that are highly unlikely to come from the Province.
Phillips said requests for information from private operators will go out by the end of April and that the process would take some time.
"We should have a pretty good idea of who will be running it and what it will look like by this time next year," he said.
Privatizing land-based gaming in the province will attract more private sector investment, increase casino revenues for casino operators, for the province and for the municipalities in which they are located, said Phillips.
In addition, he said the modernization and revitalization plan will generate 2,300 more jobs in gaming and 4,000 more jobs in hospitality across the province, some of which could come to the Sault .
It would also generate more spin off jobs in support sectors and see more money spent in the community with increased tourism.