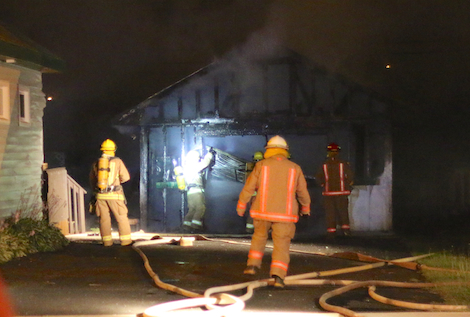 The Sault Ste. Marie Police Service is still investigating suspicious fires on Wellington Street East, reported to Police and Fire Services shortly after midnight August 2.
The fires, set off in a small area in a short period of time, are officially being investigated as cases of arson, Sault Police Service Inspector Sean Sparling told SooToday.com Thursday.
Two vehicles were set on fire, one on Wellington Street East near Simpson Street and another on Wellington Street East just west of Pine Street, receiving severe and minor damage, respectively.
A third fire, on Wellington Street East near Elizabeth Street, resulted in the destruction of a garage and moderate damage to a nearby house.
Sparling said three other "items" were set on fire in the area, for a total of six fires.
Sparling said investigators are not certain if the fires were mere acts of vandalism or if there was an underlying motive.
Sparling said police are awaiting the Ontario Fire Marshal's final report.
No suspects have been arrested or charged in connection with the fires.
Sparling said the Sault Police Service is continuing its investigation, which has included interviews with area residents and witnesses.