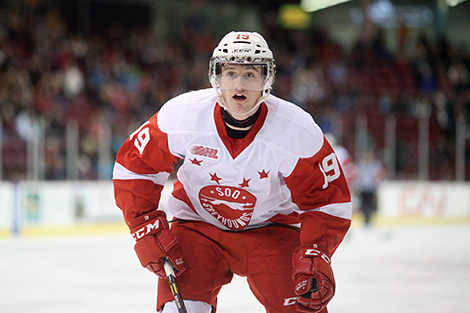 National Hockey League Central Scouting released their final rankings for the 2014 NHL draft on Tuesday.
The Soo Greyhounds have five players ranked while three others with Sault ties were also ranked.
Forward Jared McCann was the highest ranked Greyhounds player in North American rankings at 10th.
McCann finished the regular season with 27 goals and 62 points in 64 games. The sophomore forward had two goals and seven points in nine playoff games.
Greyhounds rookie forward Michael Bunting was ranked 49th. Drafted last April, bunting stepped into the lineup and scored 15 goals in 49 games. Despite missing an extended period due to a knee injury, Bunting finished the year with 42 points and posted five goals and six points in nine playoff games.
Rookie defenceman Kyle Jenkins was ranked 69th. Jenkins had 25 points, with seven goals, in 63 games this season.
19-year-old Greyhound forward Bryan Moore was ranked 195th.
Moore had 14 goals and 28 points in 28 games with the Greyhounds this season after being acquired by the team in a pre-deadline deal with the Sarnia Sting. Moore had 61 points total this season, 25 of them goals.
Rookie goaltender Brandon Halverson was ranked sixth among North American goaltenders. Halverson posted a 12-6-0 record in 19 games with a 2.96 goals against average.
Niagara IceDogs forward Brendan Perlini was ranked 11th. Perlini got off to a hot start and finished the season with 34 goals and 71 points in 58 games, all career highs. Perlini's parents are Sault natives.
Sault Ste. Marie native Mike Amadio of the North Bay Battalion was ranked 68th. In his second OHL season, Amadio had 12 goals and 38 points in 64 games.
North Bay forward Zach Bratina, ranked 186th by Central Scouting among North American players, also has ties to Sault Ste. Marie. The sophomore forward's father, Dan, is from Sault Ste. Marie.
Bratina was acquired by the Battalion in a trade with the Saginaw Spirit that saw fellow 2014 NHL draft prospect Blake Clarke head to the Spirit.
Former Greyhounds draft pick Anthony Angello was ranked 114th. Angello spent this season with the United States League's Omaha Lancers. Angello was drafted in the 15th round in the 2012 OHL Priority Selection. The American forward is currently committed to Cornell University.
The 2014 NHL draft is in Philadelphia beginning on June 27 with the first round. Rounds two through seven will be the following day.
File photo by SooToday.com's Kenneth Armstrong