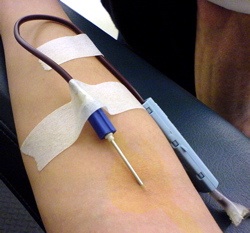 NEWS RELEASE
CANADIAN BLOOD SERVICES
*************************
June to September; a good time to remember… to make a blood donation
Rally your friends to take one hour this summer to help save a life

SAULT STE. MARIE (August 27, 2012) - Every minute of every day, someone in Canada needs blood.
Most often, it takes more than one donor to save a hospital patient's life.
That's why this summer Canadian Blood Services is asking communities across the country to join together under the theme - Rally Together to Save Lives .

Together, we can improve or save the life of a hospital patient so they can return home to their family and friends.
Together, we can help someone in our community recover from a life-threatening accident or illness.
As the highways fill with summer vacationers, so too does the likelihood that accidents will occur.
With the help of blood, many victims will survive.
The need for blood is constant and significant in every season, as it can take many donors to help save a life.
For example, someone in a car accident requires blood and blood products from up to 50 donors.
The summer season is also one where donors change their routines, take vacations and are involved with outdoor activities, so donating blood may not always be top of mind for them.
However, the need for blood does not take a summer vacation.
Rallying together to donate blood can help ensure happier endings this summer.

"First time donors are always surprised at how easy it is to donate blood, it only takes an hour. They also appreciate learning how much of an impact it can make for a hospital patient and their family," says Joanne Drake, community development coordinator with Canadian Blood Services. "We hope everyone has a safe happy summer this year and that they do something really memorable like getting together as a family or group to help save a life by donating blood."
The next clinic in Sault Ste. Marie will held on Tuesday, September 4 from 4 p.m. to 8 p.m. and Wednesday, September 5 from 11:30 a.m.-2:30 -.m. and 4 p.m.-7 p.m. at Verdi Hall, 455 Queen Street.
Please visit us online at www.blood.ca or call 1 888 2 DONATE (1-888-236-6283) to book an appointment to donate today.

How much blood is needed to save the life of a:

• Car accident victim - Up to 50 donors
• Leukemia patient - Up to eight donors a week for several weeks
• Cardiovascular surgery patient- Up to five donors
• A patient with internal bleeding - Up to two to eight donors
• Aplastic anemia patient- Up to four donors a month
• Bone marrow transplant patient - Up to two donors a day
• Brain Surgery patient - Up to two donors
• Hip replacement patient - Up to two donors

About Canadian Blood Services

Canadian Blood Services is a national, not-for-profit charitable organization that manages the supply of blood and blood products in all provinces and territories outside of Quebec.
Canadian Blood Services also oversees the OneMatch Stem Cell and Marrow Network, and provides national leadership for organ and tissue donation and transplantation.
Canadian Blood Services operates 42 permanent collection sites and more than 20,000 donor clinics annually.
The provincial and territorial Ministries of Health provide operational funding to Canadian Blood Services.
The federal government, through Health Canada, is responsible for regulating the blood system.

To book an appointment or for more information, visit us at this website or call 1 888 2 DONATE.

Follow us on Twitter @itsinyoutogive, visit our official Facebook page and see our YouTube channel at 1882DONATE.

*************************