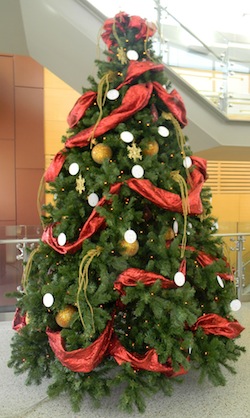 NEWS RELEASE
SAULT AREA HOSPITAL FOUNDATION
*************************
Light up the Sault Area Hospital Foundation's "Tree of Hope"
(November 12,2012) - The holiday season is a time to celebrate and cherish those around us.
Please help light up our "Tree of Hope."
This year funds will go towards surgical equipment for use by gynecologists newly recruited to the Sault, and other surgeons.
"The Foundation is the single source of funding for any new equipment purchases at the Sault Area Hospital. It is critical that they are able to raise funds for much needed surgical equipment, as this helps us in the successful recruitment and retention of physicians," Christine Pagnucco, manager, Physician Recruitment.
When you make a gift to the Sault Area Hospital Foundation's "Tree of Hope" you can also make the donation to honour a hospital staff member, volunteer, family member, client, customer, friend, teacher or neighbour while helping the present and future patients of the Sault Area Hospital at the same time.
A card will be sent to notify the individual of your thoughtful gesture and make them aware of your support of the hospital, in their name.
We will also hang an ornament with your message on the Foundation's donated 10-foot "Tree of Hope" which is located in the lobby of the hospital.
The Sault Area Hospital Foundation, together with our community and guided by our values, gives financial support to the Sault Area Hospital, to assist it in providing quality patient-centred healthcare to the citizens of Sault Ste. Marie and area.
If you wish to make a donation, please call 705-759-3848, come by our office which is located at the hospital behind the information desk in the main lobby or visit our website.
*************************