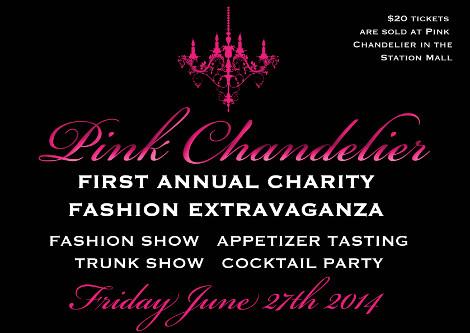 NEWS RELEASE
PINK CHANDELIER
*************************
Brent Millard and Pink Chandelier invite you to the Delta Waterfront Hotel June 27 and 28 to celebrate Pink Chandelier's First Annual Charity Fashion Extravaganza.
The weekend will begin at 7:30 p.m. with a fashion show featuring Pink Chandelier clothing followed by appetizer tasting, cocktails and a fashion trunk show.
Trunk show will include never before seen items such as scarves, sunglasses, one of a kind jewelry and Guess handbags at promotional prices.
Fashion consultants as well as Polish Esthetics will be on site offering fashiontips and beauty tips with a selection of MAC cosmetics for sale.
Tickets are being sold at Pink Chandelier in the Station Mall for $20.
Here's the best part: your $20 ticket can be used as "Pink Dollars" towards any purchase at the trunk show Friday night.
Trunk sale will continue into Saturday June 28 and is open to the public without ticket.

Millard, owner of Pink Chandelier has been recognized as a trendsetter in the local community since the late 1980's.
Starting as manager and co-owner of United Colors of Benetton and Threadz moving up to creator of Raw Brent has been a familiar face in fashion in the Soo for years.
Brent's unique and original outlook on fashion has inspired many and now he wants to share his fashion expertise with you.
He hopes Pink Chandelier's First Annual Fashion Extravaganza will grow to be a huge annual event for all fashion lovers living in and around Sault Ste. Marie.
Millard would like to give back to the community not only by making the event a charitable fundraiser but also by reinstating the fashion experience.
Millard states "of course you can find fashionable items online but you can't get expert advise from your local retailer or gossip about your boyfriends over lunch without going shopping, I want to bring back the fashion shopping experience."

Partial proceeds will be donated to the Lung Association.
Proceeds from this event will assist The Lung Association with its work to save lives by improving lung health and preventing lung disease.
Your generous support makes it possible for the Lung Association to help combat lung cancer, childhood asthma, tobacco use, second-hand smoke, air pollution and influenza.
Your support will also assist the Lung Association in vital research for cures and new treatments for people with life threatening lung disease.
One in five people in Ontario is affected by lung disease.
Your support may help someone you know and care about.
*************************