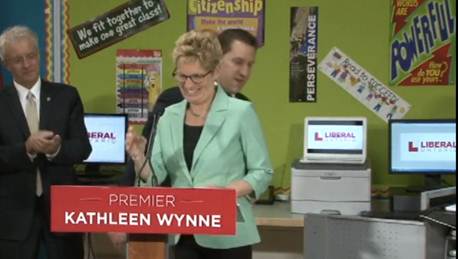 NEWS RELEASE
PC CANDIDATE ROD FREMLIN
*************************
Yesterday Kathleen Wynne, former Liberal Education Minister and School Board Trustee, attended a taxpayer funded school to make a partisan political announcement.
At that announcement she uploaded Ontario Liberal Party images and content on Huron Superior Catholic District School Board property.
This is not allowed.
The school board policy clearly states in Policy 4015 ("Usage of the Board's Computers", 6bi (Prohibited Activities):
b) Activities inconsistent with the Board's Mission Statement are prohibited. This includes:
ii) political lobbying
The Policy is listed here.
Local PC Candidate Rod Fremlin said "Kathleen Wynne and the Liberals have once again demonstrated their blatant lack of respect and disregard for rules and regulations not only for the people of Ontario but also locally here in Sault Ste. Marie. Kathleen Wynne needs to learn to follow the rules."
*************************