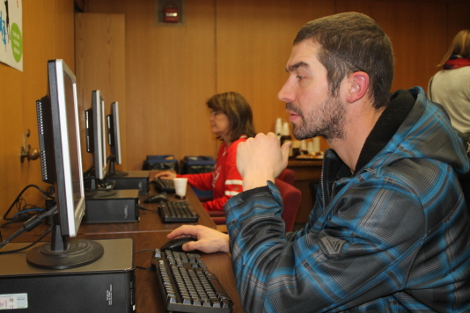 A well-attended open house, organized by the City of Sault Ste. Marie's Community Services Department, was held at the Civic Centre Tuesday.
Community Services Commissioner Nick Apostle and Recreation and Culture Division officials informed attendees that their input is needed as the City prepares its new Parks and Recreation Master Plan.
The last such plan dates back to the 1980s and has become outdated, Apostle told Tuesday's audience.
The public is being asked to identify its recreational needs and the City will see what it can do to accommodate those needs in the new five to 10-year Plan.
Computer stations (pictured) were set up at the Civic Centre's Ramsay Room Tuesday, at which members of the public could complete an online Community Engagement Survey on the City's website, as an opportunity to identify recreational needs and contribute ideas and advice.
Paper copies of the Survey were also available.
The public may complete the Community Engagement Survey by going to the City's website at www.cityssm.on.ca then clicking on "City Hall," then "Surveys."
The Survey will be available until April 30.
People may also e-mail suggestions to parks&recfeedback@cityssm.on.ca
A separate engagement survey for seniors (individuals 55 and older) has been up for approximately a month, Apostle told SooToday.com.
"We've had about 120 responses from our seniors groups, and now that we're rolling this Community Engagement Survey out, we're getting a lot of interest through advertising people pick up at the Essar Centre, the John Rhodes Community Centre and the Northern Community Centre," Apostle said.
More specific surveys for user groups, and meetings with hockey teams and soccer clubs, for example, will be coming in the future.
"We'll be looking at the data from this particular Survey over the summer and then compiling our next steps starting in the fall of this year, and starting to build our Master Plan from there," Apostle said.
After the Community Engagement phase is complete, Apostle said drafting, finalizing and implementation of the Master Plan will follow.
The City originally paid London, Ontario-based planning consultants Monteith Brown $2,500 to get Sault Ste. Marie's Parks and Recreation Master Plan started.
The firm specializes in recreational planning.
"They've done close to 80 percent of the Parks and Rec Master Plans across Ontario and Canada," Apostle said.
Apostle said staff are looking forward to working with stakeholders in order to meet their goals in the Master Plan, and is encouraged by the revival of certain activities in the community.
"For the first time in years we have a new tennis association in Sault Ste. Marie which is great to see, it's been quite a while."
There are new activities as well.
Pickleball has come to Sault Ste. Marie.
Pickleball, which is a mixture of tennis, table tennis and badminton, can be played indoors and outdoors, and has become popular in North America among active seniors.
Locally, it is played at the Senior Citizens Drop-In Centre, the Sault YMCA and LaSalle Park near Superior Heights Collegiate.
With cricket also now a part of the Sault sports scene (played at the Northern Community Centre), Apostle said his department will be updating City Council, at its March 24 meeting, about the Master Plan and the interest that cricket, pickleball and Ultimate Frisbee are now generating in the community.
Major projects Community Services are working on include the establishment of an off-leash dog park (City funding is earmarked for such a facility, and the City is working with a LOLDOGS fundraising campaign to make it a reality) and a bicycle park in the City's west end.
It is also hoped provincial funding will eventually come through to help pay for a new McMeeken Centre, to be joined up with the Northern Community Centre.