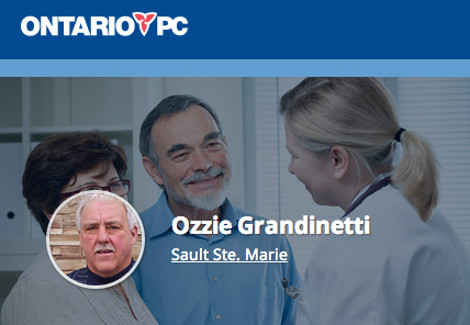 The Ontario PC Party appears a tad confused about who is going to be on the ballot for the Sault riding come June 12.
But we are assured that things will soon be sorted.
As of Wednesday night, if you entered a Sault Ste. Marie postal code into the main page of the PC Party website it told you Ozzie Grandinetti is their candidate for the riding.
Grandinetti, a former Ward 6 city councillor, had expressed interest in the job, saying shortly after the election was called that he was considering a run under the PC banner.
But Grandinetti backed out and Rod Fremlin, a retired firefighter, was announced a day or so later as the party's rep in the Sault.
When contacted by email late Wednesday, a PC staffer put the discrepancy on the site down to a 'coding error' and said the problem was being fixed.
Delve deeper into the PC site and Fremlin is listed as candidate for the Sault, however, bio info was scant as of Wednesday night and the page still contained placeholder text.