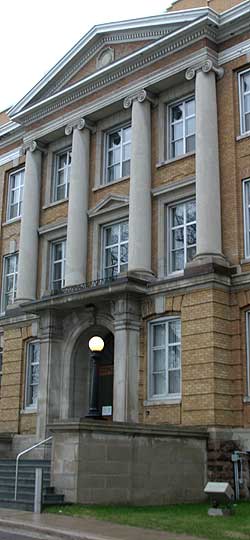 Gay Overland will face a sentencing hearing in seven weeks after a Superior Court judge found her guilty today of a string of arsons that prompted a years-long police investigation.
Superior Court Justice Edward Gareau found Overland guilty of four of five arson charges and guilty of more than $100,000 in insurance fraud related to claims made on homes destroyed in two of the arsons.
Overland was found guilty as well of charges related to attempts to re-instate a $250,000 insurance policy on her ex-husband, and guilty of plotting with an undercover police officer to have the officer set fire to another property.
The verdict comes after a nine-week trial that took place this spring and included recorded evidence made by an undercover police officer who was sent to befriend Overland.
Overland remains in custody pending a sentencing hearing scheduled to take place Sept. 12.
Overland's lawyer, Eric McCooeye, argued this morning that his client should be granted bail during the intervening weeks, comparing the two years, four months Overland has already served to the year-long sentence imposed against Grant Morden, the man who pleaded guilty earlier this year to actually setting three of the fires in which Overland was charged.
Gareau turned down the bail request, citing and indications from the Crown that it will be seeking "substantially more" than Overland's current time served during her sentencing hearing, while also noting Overland's status now as convict instead of accused is an important distinction between this situation and case law cited by McCooeye.
Overland was found not guilty of one count of arson involving a Sept. 27, 2011 fire at a home at 627 Queen Street West owned by her son and where she was living at the time.
While Gareau ruled that the fire in a garage on the property was arson, he said inconsistent statements captured by undercover police officer Sgt. Carrie Kerfoot in her conversations with Overland led him to have reasonable doubt that she was responsible.
"What Overland says on these tapes is not consistent. Comments are made that could indicate that she was involved in this fire, but similarly, Overland makes comments that indicate she was not involved in the fire," Gareau wrote.
Previous SooToday.com coverage of this story: